Mohammed receives HSBC Group CEO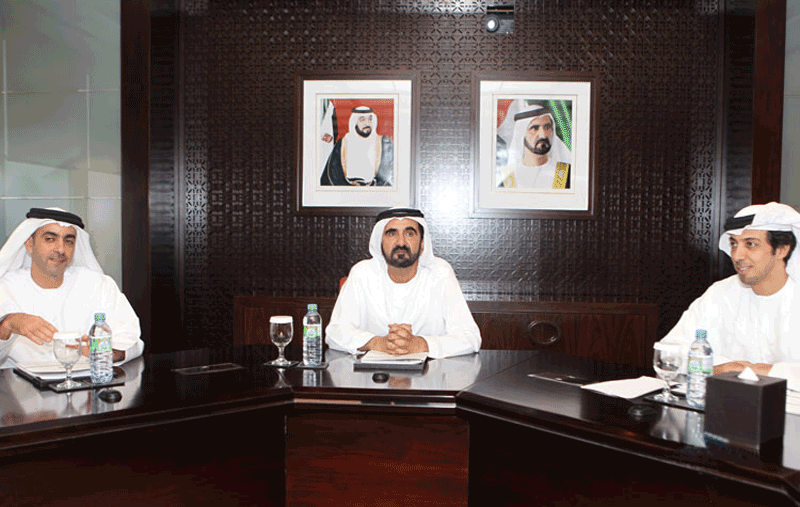 His Highness Sheikh Mohammed bin Rashid Al Maktoum, Vice-President and Prime Minister of UAE and Ruler of Dubai, on Tuesday received at his Zabeel Palace, HSBC Group CEO Stuart Gulliver, who is currently touring the region.
Dubai Crown Prince Sheikh Hamdan bin Mohammed bin Rashid Al Maktoum and Deputy Ruler of Dubai Sheikh Maktoum bin Mohammed bin Rashid Al Maktoum, were present.
Sheikh Mohammed and Gulliver reviewed the current economic developments on the national and international level, as well as the results of the urgent measures taken by the Dubai Government for restructuring the debts of Dubai World.
Gulliver described these measures as the right step in the right direction, and said that that it embodies the penetrating vision of Sheikh Mohammed. The HSBC official also commended the tireless efforts of Sheikh Mohammed in the field of promoting and developing trade, tourism, financial and economic activities both in the emirate and in the UAE in general, and said that they have enhanced global confidence in UAE's economy and its institutions.
Gulliver asserted the commitment of his group to effectively contribute to the process of economic growth in the country and to increase the volume of financial transactions and investment in the UAE, which enjoys the confidence of the group and other financial institutions and international banks. All of them greatly trust the wise policies adopted by the country's leadership, he added.
The meeting was attended by Sheikh Ahmed bin Saeed Al Maktoum, President of Dubai Civil Aviation and Chairman of Emirates Group; Obaid Humaid Al Tayer, Minister of State for Finance Affairs and a number of other officials.


Mohammed launches Programme for Excellent Government Services

Sheikh Mohammed, on Tuesday, also launched the Emirates Programme for Excellent Government Services as part of the government efforts to upgrade services provided to customers.
Sheikh Mohammed heard a presentation from the Federal Cabinet Secretariat's team on the Programme which envisages new gradual one-to-seven star classification for all government services centres. The classification seeks to make a qualitative leap in the efficiency of public services so as to deliver multi-channel swift, convenient, and comfortable experience for all beneficiaries from federal government services.
The programme will standardise benchmarks of public services in all government entities according to modern instruments and methodologies.
It will upgrade government services to seven star through implementation of a set of criteria in terms of swiftness of transactions, availability of information, diversity of channels of delivery and innovation in the next five years.
The team sets special innovation guidelines for the use of advanced technology in delivery of the services as well as criteria for streamlining the steps required for processing transactions.
Clients will also be divided into categories so as to assess their requirements for the sake of leveraging services provided to them.
Sheikh Mohammed said he was satisfied with the details and mechanisms of implementation of the programme in the federal government entities.
He stressed on the importance of delivery of these services in all corners of the country with the same quality and instructed the concerned government circles to simplify procedures, considering customer satisfaction as an indicator to the real success and excellence.
"Delivery of work with the spirit of accuracy and excellence is a government priority and a national duty that should be respected... distinction in provision of government services to all clients is a key component of the federal government strategy launched in February 2010," he said.
He said he was confident the government leaders would work to improve efficiency of government services and train human resources on how to implement the new standards and instill the culture of excellence in different government bodies as this is part of the long-term UAE Vision 2021.
The launch ceremony was attended by Sheikh Hamdan bin Mohammed bin Rashid Al Maktoum, Crown Prince of Dubai, Sheikh Maktoum bin Mohammed bin Rashid Al Maktoum, Deputy Ruler of Dubai, Lt General Sheikh Saif bin Zayed Al Nahyan, Deputy Prime Minister and Minister of Interior, Sheikh Mansour bin Zayed Al Nahyan, Deputy Prime Minister and Minister of Presidential Affairs, Mohammed Abdullah Al Gergawi, Minister for Cabinet Affairs, and a number of senior officials.
Follow Emirates 24|7 on Google News.