Mohammed unveils new World Expo 2020 logo in Dubai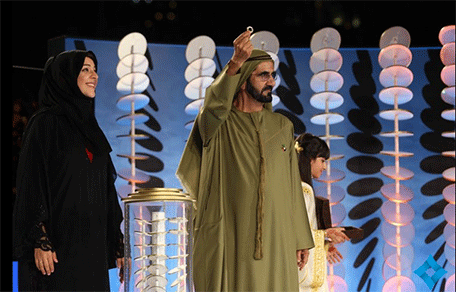 His Highness Sheikh Mohammed bin Rashid Al Maktoum, Vice-President and Prime Minister of the UAE and Ruler of Dubai, on Sunday inaugurated logo of Expo 2020 in the presence of Sheikh Hamdan bin Mohammed bin Rashid Al Maktoum, Crown Prince of Dubai, and Sheikh Maktoum bin Mohammed bin Rashid Al Maktoum, Deputy Ruler of Dubai.
The inauguration ceremony was witnessed by thousands of citizens of the UAE, residents and visitors from around the world.
Launched in Downtown Dubai, the new logo was also projected onto the world's tallest building Burj Khalifa. The new logo was inspired by antique factory gold ornaments discovered in 2002 in the archaeological site called Saruq Al Hadid.
The logo is a compilation of patterns of inscriptions and artifacts of Emirati civilization dates back to 4,000 years.
Sheikh Hamdan bin Mohammed honoured the three finalists in the new logo design contest launched in April during the ceremonial unveiling of the logo.
Expo 2020 new logo launching event in Armani hotel, Dubai. March 27,2016.
Connecting past, present and the future: The story of our Logo – A gift from the past
The new logo is inspired by a 4,000 year-old piece of jewellery found at 'Saroug Al Hadeed', an ancient archeological site discovered by Sheikh Mohammed in 2002 in the Al Marmum area.
Sheikh Mohammed said: "We have chosen an authentic Emirati logo for Dubai Expo 2020. The design of the logo is inspired by a civilisation that existed 4000 years ago in an area extending from Baynounah in Abu Dhabi to Saroug Al Hadeed in Dubai and from Maliha Valley in Sharjah to the mountains of Ras Al Khaimah and Fujairah. This land connected ancient civilizations and we will continue to be a hub that connects the world."
Sheikh Mohammed said: "The Expo 2020 logo represents our message to the world that our civilization has deep roots. We were and will always be a pot that gathers civilizations and a centre for innovation. Over 4,000 years ago, the people who lived in this land had a deep creative spirit and today the people of this country are building the nation's future for centuries to come."
His Highness also said: "Dubai is the city of gold, but the minds and hands of our citizens are more precious than gold."
Burj Khalifa lit up in Expo 2020 new logo
There have also been discoveries of seals belonging to an Egyptian Pharaoh, Thutmose III, and cedar wood from what is now Lebanon. One set of artefacts in particular – a series of gold rings – stood out as particularly unique and inspirational.
Burj Khalifa lit up in Expo 2020 new logo
Reem Al Hashimy, Director-General of Dubai Expo 2020 Office and Minister of State for International Cooperation, said the logo reflects Dubai's aspirations for a better world, which can only be achieved through cooperation and a meaningful exchange of ideas. Al Hashimy expressed her appreciation and gratitude to all those who contributed to the success of the event as well as those who participated in the logo competition.
Earlier, His Highness Sheikh Mohammed bin Rashid Al Maktoum approved the Expo 2020 logo at a meeting attended by Chairman of the Supreme National Committee for Dubai Expo 2020 Sheikh Ahmed bin Saeed Al Maktoum; Chairman of the Executive Office of Sheikh Mohammed bin Rashid Al Maktoum Mohammed Al Gergawi; Director-General of the Dubai Expo 2020 Office Reem Al Hashimy; Director-General of His Highness the Ruler's Court Mohammed Al Shaibani; Mohammad Ahmad Al Murr; Director-General of Dubai Municipality Hussain Nasser Lootah; and Director-General of Dubai Protocol Department Khalifa Saeed Sulaiman.
Sheikh Mohammed and his delegation visited the archaeological site at Saroug Al Hadeed where he was briefed on the excavations that have taken place at the site since its discovery in 2002.
The Saroug Al Hadeed archaeological site is one of the most important archaeological sites discovered in the southeast part of the Arabian Peninsula and one of the main centers for the manufacture of copper tools in the region since the beginning of the Iron Age. The site contains large amounts of metal ores. Thousands of rare artefacts have been discovered in the site including swords and daggers.
Click here for more Images and video: Dubai Expo 2020 Logo
Follow Emirates 24|7 on Google News.