Mohammed visits government departments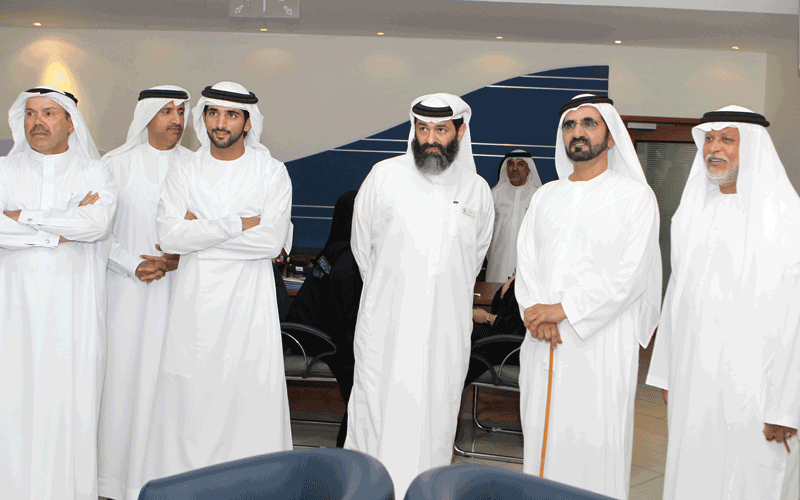 His Highness Sheikh Mohammed bin Rashid Al Maktoum, Vice-President and Prime Minister of the UAE and Ruler of Dubai, visited the Mohammed bin Rashid Housing Establishment (MBRHE) today, accompanied by Dubai Crown Prince Sheikh Hamdan bin Mohammed bin Rashid Al Maktoum.
During his inspection tour, Sheikh Mohammed was briefed by CEO of the MBRHE, Sami Abdullah Gargash, on housing projects being developed by his organisation for citizens of Dubai as part of efforts to enhance their quality of life.
Sheikh Mohammed and Sheikh Hamdan also paid a visit to the Dubai Department of Islamic Affairs and Charitable Activities (IACAD), where they were received by the department's Director General, Dr Hamad Al Shebani, and other officials.
Asma Saif Al Motawwa, the Director of the Government Excellence Division, gave a briefing on the department's 2011-2012 strategy and goals in accordance with the Dubai Strategic Plan.
Sheikh Mohammed was accompanied by Sheikh Saeed bin Maktoum bin Juma Al Maktoum, Director of Dubai Ruler's Court Mohammed Ibrahim Al Shebani, Director of Dubai Ruler's Office Lt. General Musabbah Rashid Al Fattan, Dubai Ruler's Advisor for Cultural and Humanitarian Affairs Ibrahim Mohammed Bu Melha, Dubai Director of Protocol and Hospitality Khalifa Saeed Suleiman and other senior officials.
Follow Emirates 24|7 on Google News.