Sheikh Mohammed attends first stage of Dubai International Cycling Tour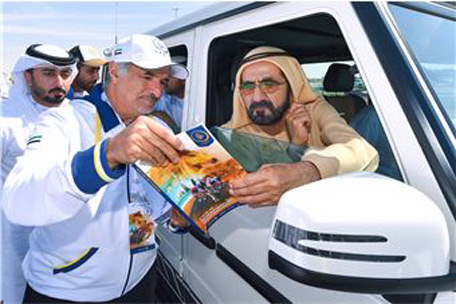 The Vice President, Prime Minister and Ruler of Dubai, His Highness Sheikh Mohammed bin Rashid Al Maktoum, attended some of the competitions of the first stage of the 5th Dubai International Cycling Tour, organised by Dubai Sports Council until 10th February.
His Highness Sheikh Mohammed watched the race as the cyclists passed through the Al Marmoum Natural Reserve, which contains the country's longest desert cycling paths, totalling around 100 kilometres.
Sheikh Mohammed was briefed, in the presence of Mohammad bin Abdullah Al Gergawi, Minister of Cabinet Affairs and the Future, and Khalifa Saeed Soliman, Director-General of the Protocols and Hospitality Department in Dubai, by Mohammed Hareb, Secretary-General of the Dubai Sports Council and Chairman of the Organising Committee of the Event, about the fact that the cyclists completed around 20 km during the event's first stage at the Al Marmoum Natural Reserve, which was witnessed by millions of people around the world, through international media coverage in 180 Arab and international countries He was also briefed about the key international teams and individuals participating in the event, as well as the arrangements and procedures that were followed to ensure its success. He described the event as an international challenge for the youth, as it requires a high level of fitness, persistence, and patience up till the last minute of the race.
H.H. Sheikh Mohammed expressed his happiness at organising the international gathering of youth sports in the country, which is hosted by Dubai while considering it an opportunity for Emirati and Arab youths to compete with their counterparts from around the world, as well as to get to know each other and exchange experiences and ideas.
Follow Emirates 24|7 on Google News.