Sheikh Mohammed chairs UAE cabinet meeting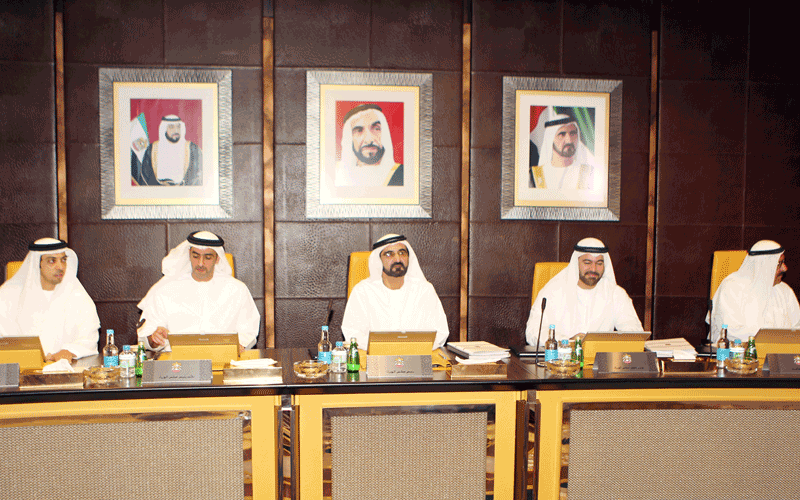 His Highness Sheikh Mohammed bin Rashid Al Maktoum, Vice-President and Prime Minister of the UAE and Ruler of Dubai, on Sunday chaired the Cabinet meeting at the Presidential Palace in Abu Dhabi.
Lt General Sheikh Saif bin Zayed Al Nahyan, Deputy Prime Minister and Minister of Interior and Sheikh Mansour bin Zayed Al Nahyan, Deputy Prime Minister and Minister of Presidential Affairs were also present.
In a move to enhance bilateral relations between the UAE and Iraq. the cabinet approved the establishment of a consulate in the city of Erbil, in Northern Iraq.
The cabinet also endorsed a draft agreement between the UAE and Vietnam concerning visa exemptions for holders of diplomatic passports.
After signing off on the budget for the National Insurance Authority for 2011-2013, the council of ministers reviewed a recommendation from the Federal National Council (FNC) regarding water resources.
The meeting concluded with the cabinet agreeing to appoint new ambassadors to Lebanon and Mongolia.
Mohammed to hold talks with South Korean President, honour winners of Zayed Prize

Sheikh Mohammed will welcome Mondayafternoon President Lee Myung-bak of the Republic of Korea at the Zabeel Palace for talks on ways of consolidating relations of cooperation and friendship between the UAE and South Korea.
In the evening, Sheikh Mohammed and his high-profile guest will grace the award-giving ceremony of the 5th Zayed International Prize for the Environment 2011 at the Dubai International Convention and Exhibition Centre.
The winners, apart from the top honours and the recognition they will receive for their work, will also share $1 million in prize money.
Sheikh Mohammed will honour President Myung-bak for winning the Zayed Prize for Global leadership in environment.
In the midst of the recent economic and financial crisis the South Korean President seized the moment to commit his country to "Green Growth," a new paradigm for economic development that binds together environment protection and economic prosperity, creating new growth engines and jobs through green technology and clean energy. Myung-bak's vision and leadership was a central driver in transforming the Republic of Korea's development path into a low carbon, resource efficient, and Green Economy.
Follow Emirates 24|7 on Google News.