Sheikh Zayed Grand Mosque Centre is world's second best attraction on TripAdvisor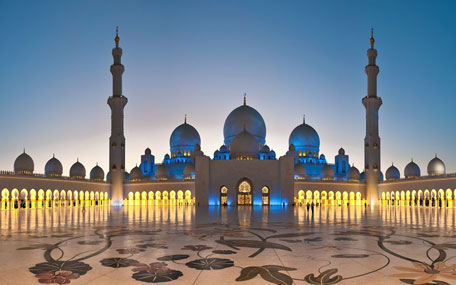 Abu Dhabi's Sheikh Zayed Grand Mosque Centre has ranked second among the world's top 25 attractions in the '2014 'Travelers' Choice' awards' of TripAdvisor, the world's largest travel site.
"Grand is an understatement. The architecture, the white marble and the beautifully maintained green gardens are stunning," said Tripadvisor of the Sheikh Zayed Grand Mosque Centre.
Travellers and tourists from around the globe who posted their reviews on TripAdvisor over the past one year picked Abu Dhabi's must-see iconic landmark over India's Taj Mahal, the famous 'Temple of Love'.
Sheikh Zayed Grand Mosque Centre which comes second on the list of top 25 attractions, preceded only by Machu Picchu, Peru (ranked 1st), surpassed other very famous landmarks such as Great Cathedral and Mosque, Cordoba, Spain (4th), St. Peter's Basilica, Vatican City, Italy (5th), Angkor Wat, Siem Reap, Cambodia (6th), Bayon Temple, Siem Reap, Cambodia (7th), among others.
According to Tripadvisor, Sheikh Zayed Grand Mosque Centre also ranked first among 70 attractions in Abu Dhabi.
The Travelers' Choice awards for Attractions, which highlights the top landmarks and parks around the globe, were announced on Tuesday by TripAdvisor.
In the second year of TripAdvisor's awards for these categories, 929 winners were identified, including the top 25 in the world and dedicated lists for Asia, Australia, Canada, China, Europe, India, Mexico, South America, the South Pacific, the UK and the US.
Travelers' Choice awards honour top travel spots worldwide based on the millions of valuable reviews and opinions from TripAdvisor travelers. Award winners were determined using an algorithm that took into account the quantity and quality of reviews for landmark and park attractions worldwide, gathered over a 12-month period.
"Huge and opulent!', wrote one of the travellers, Barrele, in his review of Sheikh Zayed Grand Mosque Centre on TripAdvisor.
"Indeed the best sight in Abu Dhabi! I had a nice time walking around and taking pictures, so white that the exterior dazzled me at times! .... The displayed craftmanship is noticeable, I liked the mother pearl inlaids in the marble clad and the colorful imported chandeliers. It is also said it has world's largest carpet. Definitely a must when visiting Abu Dhabi! And girls don't worry about your clothes, they lend abayas for free!."
Follow Emirates 24|7 on Google News.