Houthis recruiting African mercenaries in Yemen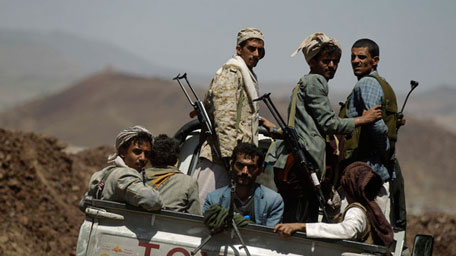 Iranian-backed Houthis and their coup allies are training Africans to fight with them in Yemen and two of them were captured by the national resistance on Saturday, a Yemeni news network reported on Sunday.

Marib Press quoted a statement by the resistance as saying it captured seven insurgents during clashes that erupted when the rebels tried to infiltrate into their areas in the Southwestern Aldale town.

"Two of those captured are Ethiopians. The Houthis and their allies are recruiting mercenaries from African countries by training them at their military camps in Alhudeiydah and Albaydah," a resistance source told the network.

In another development, the Houthis have committed 30 crimes in the Southern Ibb governorate over the past week against civilians in areas under their control, an average three crimes a day, according to the resistance's information unit.

It said the crimes included two murders, wounding two civilians, 12 abduction cases, as well as lootings, bombing of houses, and disappearances of young men.

"In Jabla area, the Houthis and their allies raided many houses on Friday, looted some of them and intimidated children and women," it said.

Follow Emirates 24|7 on Google News.