How you can take the Blue Card route to European residency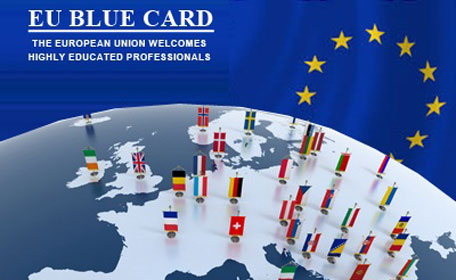 If you've been thinking of working and living in Europe, the EU Blue Card is one good option that allows you to work in the region with a much higher pay that the national average.
The EU Blue Card is a work and residence permit for skilled Non-EU/EEA nationals. This Card provides comprehensive socio-economic rights and a path towards permanent residence in Europe.
What are benefits of this card?
The EU Blue Card scheme attracts professionals from outside the European Union. This is a way to offer professionals the option of relocating to the EU as opposed to other popular destinations like United States, Canada or Australia.
This initiative incorporates certain features that can attract highly skilled workforce. These include working and salary conditions equal to nationals, free movement within the Schengen area, entitlement to a series of socio-economic rights (e.g. unemployment benefit), favourable conditions for family reunification, permanent residence perspective and the freedom of association.
If you apply to this card, you need to make sure that the time spent in the member countries is between two to five years. This also depends on your country of residence. The time spent in various countries or in one, accumulates and is taken into consideration when you can apply for permanent residency.
Which countries are included in the list?
All EU member states, except the United Kingdom (which is now on its path to existing the Union), Denmark and Ireland, participate in the EU Blue Card scheme.
Countries such as Austria, Belgium, Bulgaria, Croatia, Cyprus (unconfirmed), Czech Republic, Estonia, Finland, France, Germany, Greece, Hungary, Italy, Latvia, Lithuania, Luxembourg, Malta, Netherlands, Poland, Portugal, Romania, Slovakia, Slovenia, Spain and Sweden are committed to issue the EU Blue Card.
Citizens of the European Economic Area (European Union, Norway, Liechtenstein, Iceland and Switzerland) are excluded from this programme. Citizens of overseas countries and territories (OCTs) that have constitutional ties with EU member states, examples of OCTs are Pitcairn Island, Montserrat and Greenland have also been kept off the list.
What conditions must you fulfil?
If applying for an EU Blue Card, you should have high professional qualifications. You must work as a paid employee. Self-employed work or entrepreneurs are not eligible to get this card.
Your annual gross salary must be high, at least one and a half times the average national salary and you must have a work contract or binding job offer in an EU country for at least one year, as per the EU Immigration Portal.
The salary varies on the company you are to join but there is the salary threshold which shows the minimum salary that is respected and protected by the law. The EU Blue Card directive proposes that the employer pays the card holder a salary of at least 1.5 times the average gross salary of the respective country, however there are exceptions.
Besides, you must have the necessary travel documents and health insurance for yourself and any relatives who come to the EU with you.
You must prove that you fulfil the legal requirements to practice your profession, where this profession is regulated.
Follow Emirates 24|7 on Google News.