Indian milkman's son the next Tiger Woods?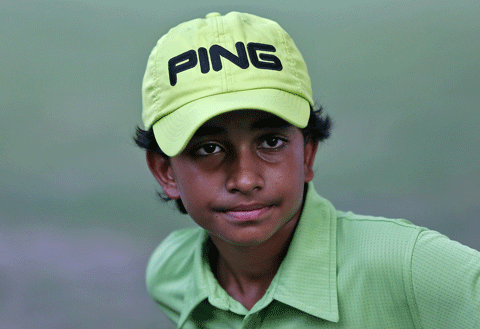 Golfing prodigy Shubham Jaglan turned 11 last week but the only son of a milkman from rural India is aloof to the cartoons and toys that usually draw boys of his age.
The winner of back-to-back titles on the world junior golf circuit in the United States last month knows he must make sacrifices to achieve his dreams.
Golf is a rich man's sport in India and as a kid from a poor family, Shubham started off swinging shabby clubs in the mustard field of his village in the north Indian state of Haryana.
"He had to make a lot of sacrifice to chase that dream and he is happy to make that sacrifice, which is the best things about him," coach Nonita Lal Qureshi told Reuters.
"His day is very structured, he hardly gets to do what boys his age do but he has a passion for golf and he is doing it happily."
The passion can be seen in his results.
"I won two but missed the third in the US Kids World Championship where I came sixth," Shubham told Reuters by telephone. "I want to win all three next year."
The pristine American courses hosting the elite junior tournaments are a far cry from Shubham's beginnings.
When a golf academy opened near his home in India, it seemed a godsend to the family but the facility shut down in three months.
Shubham would pile up sands on the rooftop and practise his bunker shots there, while his father
Jagpal cleared the area behind their house to carve out a three-hole course for his son. Jagpal also got his son a computer.
"I started watching top golfers on YouTube," Shubham said.
"Gary Player, Seve Ballesteros, Tiger Woods, Louis Oosthuizen...I'd try their swing and see if it works for me."
His name featured regularly enough in local tournaments to interest the Golf Foundation, run by former Asian Games gold medallist Amit Luthra.
Promised free education and free practice at the Delhi Golf Club, the Jaglans, a family boasting a number of elite wrestlers, sold off dairy cattle and moved to Delhi to help their son pursue his dream.
It was a bold move by a family still struggling to adjust to city life but Shubham's single-minded devotion has been reassuring, even if it means long spells away from home.
"I don't miss family. I talk to them every day, sometimes twice a day," said Shubham. "I know I will be back after a month or two."
Jagpal's phone has not stopped ringing since his son's recent success but coach Qureshi sounded a warning for the budding golfer.
"In the two-and-half years since moving to Delhi, he has blossomed but we must remember that he is very young. It is very early days in his career and we must not lose sight of what he needs to do.
"He has shown all the promise to be a really good player but many things can go wrong from here. He has just begun a journey and these victories are only milestones that he is on the right track."
Follow Emirates 24|7 on Google News.