Largest-ever military drill in region begins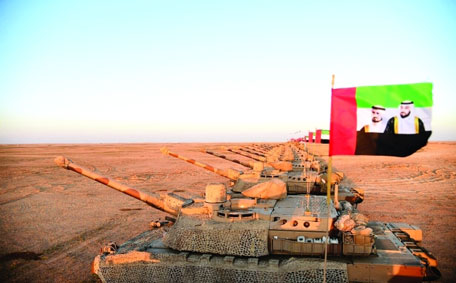 The largest military drill in the region's history using troops from 20 nations, including the UAE, and qualitative military equipment of diverse sophisticated weapons, is due to launch today in Hafar Al Baten, in the North-East of Saudi Arabia.
Dubbed 'North Thunder', the operation involves Arab and Muslim countries including Jordan, Bahrain, Senegal, Sudan, Kuwait, Maldives, Morocco, Pakistan, Chad, Tunisia, Comoros, Djibouti, Oman, Qatar, Malaysia, Egypt, and Mauritania, in addition to Saudi Arabia and the Gulf Cooperation Council's Peninsula Shield forces.
North Thunder is the largest and most important military manoeuvre in the history of the region, and one of the world's largest, and is being conducted now due to the growing threat of terrorist groups and some 'regional powers'.
The manoeuvres in north-eastern Saudi Arabia sends clear military message to those endangering the security of the Kingdom of Saudi Arabia and its allies that the Saudi-led alliance stands united to confront all challenges and maintain peace and stability in the region.
Follow Emirates 24|7 on Google News.