Man blames jinn for repeated fires at home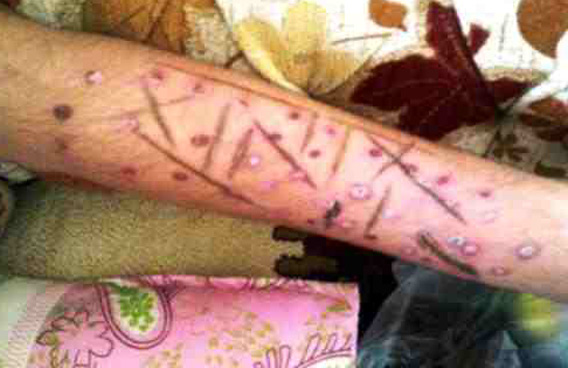 A Saudi man believes his house was haunted when persistent fire accidents destroyed most of its contents over a period of three years while talismans in the form of bruises and blisters are left on his arm.
The man, identified only as ASH, said his car also caught fire before his eyes after he jumped out of it while driving.
He had also heard voices and human walking inside his house at night and had fallen unconscious many times.
As he started to feel weak, he began walking with the help of a stick although doctors told him he was still too young and there was nothing wrong with him.
In the end, he decided to consult Quran reciters and other Moslem experts and all of them confirmed to him that his house was haunted. During his seven-year stay in that house in a village near the western town of Taif, he could not get babies. After he left that house, his wife got pregnant and delivered a boy.
"The fires began three years ago and I started to near strange voices at night…kitchen utensils then began to fall down almost every night but the fires were still small," he told Sabq newspaper.
"Then the fires began to get bigger, starting with the curtains and my clothes…they continued for three years until all contents of my house were destroyed….as a result, this caused me a loss of more than SR400,000 ($110,000)….police and civil defence who had put out the fire every time have never determined its cause."
The man said he was once driving his Camry 2007 car with his wife sat next to him when it became hot and smoke billowed out of the engine and the seats. "We jumped out and saw the car catching fire until it was completely destroyed," he said.
"Afterwards, I started to feel sick and fell unconscious many times…many bruises and blisters began to emerge on my arm in the form of talismans or incomprehensible writing… then I started to walk with the help of a stick after I felt very week although the doctors told me they could not find anything wrong with me and I was too young."
The paper quoted him as saying neighbours had seen the fires and some of them saw his clothes burning before their eyes.
"In the end, I decided to consult Raqis (Quran reciters) and other sheikhs….I saw 13 and all of them confirmed that my house was haunted with jinn (genies)," he said.
"I then decided to leave the house and shortly afterwards, my wife became pregnant although we never had babies for seven years…we now have a boy but I am still worried that the jinn will come and haunt me again and these accidents will return."
Follow Emirates 24|7 on Google News.