#MayPac: How to watch 'Fight of Century' in UAE (for free)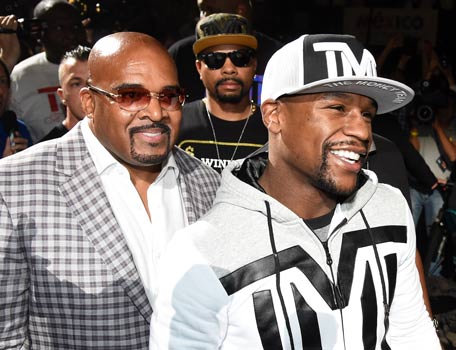 Boxing fans in the UAE are gearing up for the 'Super Sunday' showdown between Floyd Mayweather Jr and Manny Pacquiao, with many Filipinos making plans to watch the early morning action.
The question on everyone's lips is not just who will win, but also where to get a ringside view of the action.

'Emirates24|7' will bring you 'live' round-by-round coverage of the richest fight in boxing history. First up, May 2 is fight day in the US... which is May 3 in the UAE, due to the time difference.
Here are five things fans in the UAE who don't want to miss watching the mega showdown should know.
Rapper Doug E. Fresh (L) interviews WBC/WBA welterweight champion Floyd Mayweather Jr. at MGM Grand Garden Arena on April 28, 2015 in Las Vegas, Nevada. (AFP)


1) What time does the 'live' television broadcast of the boxing action starts?
5am.

2) How many fights will there be before the main event?
Six.
Two of boxing's most talented and exciting stars, WBC Super Bantamweight World Champion Leo Santa Cruz (29-0-1, 17 KOs) and WBO Featherweight World Champion Vasyl Lomachenko (3-1, 1 KO), are the two biggest names featuring in the undercard.
Santa Cruz will co-headline the pay-per-view event, putting his world title on the line against Puerto Rico's Gamalier Rodriguez (25-2-3, 17 KOs).
Lomachenko, meanwhile, will kick off the PPV main card action against Mexican 'brawler' Jose Cayetano (17-3, 8 KOs).
There will be four untelevised bouts.

3) What time is the actual fight or - the main event between Floyd Mayweather vs Manny Pacquiao?
8am, UAE time

4) Who is showing it on TV?
OSN through its channel partner, TFC (The Filipino Channel) will bring exclusive direct-to-home coverage from 5am on Sunday May 3. Three replays of the contest will be shown throughout the day. Repeats will start at 10am UAE time.
OSN and etisalat's e-life subscribers can start ordering the pay-per-view event by calling the OSN call centre for the UAE and other countries on +971 4 367 7888, or by sending the SMS code '905' to +971 50 357 5111.
Etisalat announced on its website it will be showing the fight 'live' on pay per view for Dh125, with replays throughout the same day.
Du TV will show the fight 'live' and for free. Channel 500 or use Du view application.

5) Where to watch outside?
Novo Cinemas
Six designated Novo Cinemas will screen the fight live 5am-9am UAE time.
They are Novo Cinemas at Dubai's Cineplex (near Grand Hyatt), Ibn Battuta Mall, Al Ghurair Mall and Dubai Festival City; Abu Dhabi's World Trade Centre Mall; and Sharjah's Mega Mall
Price: Dh99 including breakfast
WBC/WBA welterweight champion Floyd Mayweather Jr. arrives at MGM Grand Garden Arena on April 28, 2015 in Las Vegas, Nevada. (AFP)

Hotels
Atelier M at Pier 7, Dubai Marina
Price: Dh99 including buffet breakfast from 7am
Reservations: +971 44 507 766

Boracay Club at Asiana Hotel, Salahuddin Road, Dubai
Price: Dh88/net including breakfast in Lamesa restaurant
Club Seven at Park Regis Kris Kin Hotel, Karama, Dubai
Price: Dh80 with breakfast

Fibber Magee's at Saeed Tower One, Sheikh Zayed Road, Dubai
Price: Dh50 including breakfast
Original Wings and Rings at Liberty Tower, DIFC
Price: The Buffalo Breakfast is Dhs150

WBO welterweight champion Manny Pacquiao arrives at a fan rally at the Mandalay Bay Convention Center with his trainer Freddie Roach (L) on April 28, 2015 in Las Vegas, Nevada. (AFP)

Who will win – UAE's 'Money' fans spar
Adelle Hermogenes, a graphic designer, will be watching with her friends at Boracay Club in Asiana Hotel in Deira, Dubai, which seems to be popular venue for the Filipinos.
"I want Manny to win but I'm not sure," she said displaying signs of nerves more than the boxers themselves.
The large Filipino expatriate community in the UAE naturally want their hero to emerge triumphant but Mayweather too has his fan following.

Shawn, a boxing analyst from Nigeria, predicted a Mayweather win by knockout.
He said: "I'm a boxing fan and respect both fighters. Anybody who gets into the ring is a true champion. However, Mayweather has the mental edge because of his skill level and is bigger and taller.
"Manny has still not learnt from his mistakes. He got knocked down four times in two rounds by (Juan Manuel) Marquez in 2008, lost to Tim Bradley before being knocked out by Marquez. The pressure is on Pacquaio to put on a show."
WBO welterweight champion Manny Pacquiao poses during a fan rally at the Mandalay Bay Convention Center on April 28, 2015 in Las Vegas, Nevada. (AFP)
Pacquaio won disputed decisions in 2008 and 2011. Marquez knocked Pacquiao out in 2012.
The mega fight is on Saturday night in Las Vegas, but the time zone difference means boxing fans in the UAE have to wake up early on a Sunday morning - which is a working day.
Yuri Cipriano has taken a day off to watch the fight so he won't miss the action.
"I'm praying and hoping he will win. As Filipinos we are for Pacquaio. He is not just fighting for money but to uplift the name of Philippines. Win or lose we are proud of him," he said.
Arlan Verdeblanco predicts a Pacquaio win by knockout, which was the verdict of 60 per cent and still counting in a poll conducted by Emirates 24|7.
"I'm from the place of Pacquiao Gen Santos CP. I have known him since childhood from the early stages of his career.
"I expect Manny will be win by knockout for sure. I follow his training on his website. I hope and believe because I have seen how he trains and his discipline," he said.
Fans cheer for WBO welterweight champion Manny Pacquiao during a fan rally at the Mandalay Bay Convention Center on April 28, 2015 in Las Vegas, Nevada. (AFP)
Prasanna Wanigasekera, a former Sri Lankan boxing champion, said Mayweather will win on points.
He and his roommate Jeevana de Silva, who backs Manny, are hoping to watch the action 'live' at Abu Dhabi Golf Club.
Ramon Penas, a Filipino working in Abu Dhabi, will be watching on television at home with a few friends.
'Manny by decision', is his verdict.
"He is not so reckless now. He is more cautious and more calculated. It's more difficult to attack against him," he said.
Anne-Marie B, a Filipina sales executive, said: "I want Manny to win because he is from my community and he is representing all of us Filipinos. He is a very good fighter and has a big chance of winning."
Nelly A, another Filipino, said: "Manny is a good man. He is a man of God. This is a very important fight for him. He has a lot of people supporting him. I am praying for him and InshaAllah he will succeed."
Salha Al Hammadi, an Emirati writer, said: "Growing up in Dubai, Filipinos are a part of our community and I feel their pride that one of their own, Manny, has reached this earth-shattering level as it is his passion.
"I know Manny is a very strong contender but then so is Floyd, so it's pretty tight between them but I have a sense that Mayweather might win this match."
Ziad Tariq Siddiqui, a UAE boxer, said: "It will go all 12 rounds if the fight goes according to Mayweather's game plan. But if 'Pacman' goes aggressive and fights according to the game plan of Freddie Roach (Pacquaio's coach)then he is most likely to knock him out inside six rounds."
Rajive Singh, an Indian cricket fan, summed it up by saying: "May the best man win."
Follow Emirates 24|7 on Google News.