Meet the Guptas: Indian family 'ruling' South African President Jacob Zuma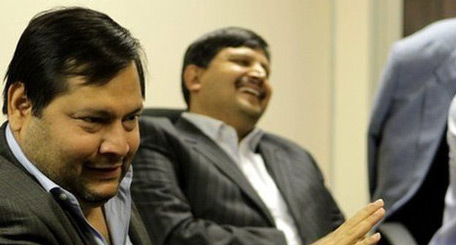 Political scandals, huge economic deals and even extravagant wedding party controversies - an immigrant family that is one of South Africa's wealthiest is accused by critics of wielding immense power behind the scenes.
The Guptas, an Indian family that moved to the country in the 1990s, are alleged to exert a magnetic pull over President Jacob Zuma, and their influence has increasingly become the target of government's fiercest critics.
To outsiders they may seem an industrious immigrant family that has made it big in their adopted country, but now their reputation is a key battleground in opposition efforts to oust Zuma from power.
The family has built a string of South African companies controlled by brothers Ajay, Atul and Rajesh with interests in computers, mining, media and engineering.
Zuma ferociously defends his friendship with the Guptas, and many of his ministers have various ties to the family.
The president's son Duduzane is a director of the Gupta's Sahara Computers and is a partner in some of their other businesses, while Zuma's third wife Bongi Ngema was also a Gupta employee.
"The Guptas are smart and shrewd business people and this can't be a normal relationship," political analyst Prince Mashele told AFP.
"There appears to be a Gupta hand in every business sector."
Last week the radical leftist Economic Freedom Fighters (EFF) opposition party put the Guptas at the centre of its campaign against Zuma ahead of municipal elections later in the year.

Political target
"We cannot allow a situation where South Africa is colonised by a family," EFF leader Julius Malema raged, as he blamed the Guptas for many of South Africa's problems and demanded that they leave the country.
"We will do to the Guptas what we did to the colonisers and apartheid," he said.
"The more we talk, the more they become corrupt and they do not care about South Africa.
"We can no longer tolerate it. It's a battle, it's a war against the Guptas."
Public anger towards the family soared in 2013, when a large private jet carrying foreign guests to a Gupta wedding was granted permission to land at Waterkloof Air Force base, outside Pretoria.
The airport is a military facility that is normally used to receive heads of state.
The wedding party did not go through immigration checks, and were given a police escort to the marriage at a casino resort 160 kilometres (100 miles) away.
The fact that several ministers attended the week-long lavish ceremonies fuelled further media and public antagonism towards the Guptas.
In another ongoing controversy, the Gupta-owned Tegeta Exploration and Resources company is in the process of acquiring a Glencore coal mine.
The minister of mines, Mosebenzi Zwane, joined the firm's delegation that visited Glencore's headquarters in Switzerland last year to negotiate the sale.
Zwane's surprise appointment as mines minister in September was widely seen to have been due to the Guptas, with whom he has been close for several years.
In another deal, VR Laser, partly run by a Gupta nephew, has entered into a joint venture with Denel, the state-owned arms manufacturer, to sell its products in Asia.
"Such deals smack of the capture of public entities by private individuals," said Mashele.
"This is an improper relationship that goes into the heart of our national integrity."

Web of influence
The Guptas, who hail from Saharanpur, in northern India, developed a friendship with Zuma well before he became president in 2009.
And he repays the loyalty by refusing to distance himself from them.
Atul, the middle brother, was the first to arrive in South Africa in 1993 to scout for business opportunities.
In 1994 they founded Sahara Computer, named after their hometown.
High-profile holdings in their portfolio include the New Age, a pro-government newspaper launched in 2010, and the 24-hour news channel ANN7, broadcasting since 2013.
Now their business ambitions are hatched from a huge residential compound in the upmarket Johannesburg district of Saxonwold.
In 2011, Zuma's office issued a official statement rejecting allegations of Gupta interference, following claims that it was the Guptas who first told a minister of his appointment.
The presidential office and Gupta spokesman Gary Naidoo did not respond to AFP's request for comment.
"There is a feeling that the Guptas are almost running the state," Adriaan Basson, author of the book "Zuma Exposed", told AFP.
"Although there hasn't been any formal investigation into the relationship, all probabilities point to an improper alliance.
"I can't see President Zuma turning his back on the Gupta family."
Follow Emirates 24|7 on Google News.