Mideast nations urged to address 'discontent'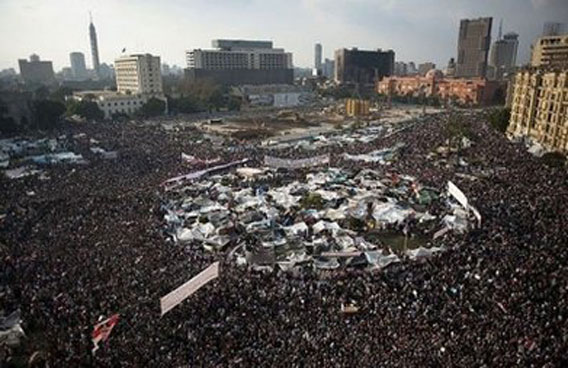 The United States on Tuesday warned governments in the Middle East to heed signs of popular "discontent" and enact reforms as it pressed Egypt to broaden its dialogue with opposition groups.
Defense Secretary Robert Gates told reporters he hoped political upheaval in Egypt and Tunisia would serve as a wake-up call for leaders in the region.
"What we have seen take place in Tunisia and Egypt is a spontaneous manifestation of discontent. We have known about these grievances for a long time," said Gates, a former CIA director and analyst.
"And we have spoken to a number of governments in the region over time about the need to address these concerns," he said, when asked about a possible ripple effect among US allies.
The White House insisted it was not easing up on its demands for immediate political change in Cairo as street protests entered a third week demanding the end of President Hosni Mubarak's rule.
Hundreds of thousands of demonstrators flooded Cairo's Tahrir Square and towns across Egypt on Tuesday in the biggest show of defiance towards President Hosni Mubarak since the revolt began.
US Vice President Joe Biden renewed an appeal for "immediate" and "irreversible" political change in a phone call to his counterpart, Vice President Omar Suleiman, seen by many as the power behind the throne.
Biden stressed four particular points - including the need to start "broadening participation in the national dialogue to include a wide range of opposition members," a White House statement said.
He also renewed US calls for Egypt to immediately rescind an emergency law, renewed for two years last May, which Washington says gives the government sweeping powers to restrict basic freedoms.
President Barack Obama's spokesman Robert Gibbs declined to directly comment on tentative steps by Mubarak to appease opponents, though seemed to hint that protesters saw the moves as falling short.
Gibbs said Washington was firm in its desire to see developments that culminate in free and fair elections, in "a process that takes place without delay and leads to immediate and irreversible results."
"I am not going to be the play-by-play announcer, and nor is this administration, about what represents progress in Egypt," he said.
The turmoil shaking Egypt has presented a dilemma for the United States, which relies on a number of regimes in the region that back up Washington's foreign policy goals but cling to authoritarian rule.
But in his first public remarks on the crisis, Gates said Washington had long urged Cairo and other allies to respond to the pent-up frustrations of a younger generation.
Gates expressed hope "that other governments in the region, seeing this spontaneous action in both Tunisia and Egypt, will take measures to begin moving in a positive direction toward addressing the political and economic grievances of their people."
Referring to a "youth revolt" in the region marked by large numbers of young people without jobs, Gates said Middle Eastern governments especially needed to allay the concerns of the younger generation.
Gates also said it was "critical" that Egypt's government fulfill its promises and move ahead with a democratic transition.
The Pentagon chief praised the role of the Egyptian military as "exemplary" and said the army - which has longstanding ties to Washington - had acted with restraint throughout days of protests.
The upheaval in Cairo appeared to take the Obama administration by surprise and lawmakers accused US intelligence agencies of failing to spot warning signs.
Senate Intelligence Committee chair Dianne Feinstein said the spy services gave the White House and lawmakers "no real warning" that unrest would rock Egypt.
Feinstein told MSNBC television that US policymakers had "a good deal of intelligence about Tunisia," where turmoil drove longtime strongman Zine El Abidine Ben Ali from power, but "virtually nothing about Egypt."
Asked whether the events in Egypt had highlighted a US intelligence failure, she replied: "I would call it a big intelligence wake-up."
Follow Emirates 24|7 on Google News.