Mumbai dock horror: Sailors die after explosion sinks Indian Navy submarine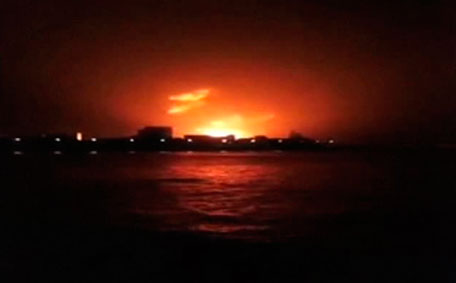 Eighteen Indian sailors were trapped and some were killed after an explosion and fire on a diesel-powered submarine berthed at a base in Mumbai on Wednesday, souring a week of naval milestones, including the launch of a locally built aircraft carrier.
INS Sindhurakshak returned to India's Navy after undergoing repairs and modernization at a shipyard in Russia. (YouTube)
Defence Minister A.K. Antony said crew members inside the Russian-built INS Sindhurakshak had died. He gave no details.
The explosion just after midnight was likely an accident ,but an investigation was under way to establish the cause, the navy said.
"There are some people who are trapped on board, we are in the process of trying to rescue them," said navy spokesman PVS Satish. "We will not give up until we get to them."
(Reuters)
Photos distributed by social media users appeared to show a large fireball over the navy dock where the kilo-class diesel-electric submarine was berthed.
The incident, the worst ever for the navy's sub-surface arm, raised memories of the explosion on the Russian nuclear attack submarine Kursk which sank to the bottom of the Barents Sea in2000, killing all 118 crew members.
(Video screengrab)
The Indian vessel, which returned from an upgrade in Russia earlier this year, had suffered a similar accident in 2010 in which one sailor was killed while it was docked in the southern port of Visakhapatnam.
Typically, such a submarine is fitted with torpedoes and missiles. Torpedoes are launched underwater to attack other submarines while missiles are used for long ranges above water.
There was no immediate word on the status of the weapons onboard the Sindhurakshak.
(Twitter)
"Lot of things are in very close proximity, there is fuel, there is hydrogen, there is oxygen, there are weapons with high explosives on board," said retired Indian navy chief Arun Prakash.
"So a slightest mistake or slightest accident can trigger off a huge accident. The question of sabotage - I mean, all possibilities have to be considered - but sabotage is probably the last possibility."
Russia distances itself
Russia on Wednesday sought to guard its reputation as a supplier of military hardware by distancing itself from a deadly accident on an Indian submarine that its manufacturers had built and recently repaired.
Moscow remains New Delhi's biggest defence partner and is keen to preserve a market it has nurtured with great care since Soviet times.
Official statistics show that eight of the 11 Project 877 submarines such as the INS Sindhurakshak Russia has built for export since the 1980s have been delivered to India.
"I do not believe that this incident will have a negative impact on Russia's military cooperation with India," the state-run RIA Novosti news agency quoted Moscow's Global Arms Trade Centre expert Igor Korotchenko as saying.
But Indian officials have voiced growing displeasure with their old partner's service -- particularly concerning the cost-overruns and delays involved in the refit of a Russian aircraft carrier that now bears the name INS Vikramaditya.
Analysts believe that India is forced to continue purchasing Russian military parts because it still operates so many Soviet-era warplanes and vessels.
But New Delhi has also sought to expand its military trade ties with Washington in the past decade after remaining for so long under Moscow's care.
The US-based Center for Strategic and International Studies estimates that cumulative defence sales between New Delhi and Washington had grown "from virtually zero" 10 years ago to more than $8 billion today.
That trend has unnerved Russian officials who have already suffered humiliations from two deadly post-Soviet submarine disasters and a raft of other military and space setbacks.
The INS Sindhurakshak was under a Russian warranty until January 2014.
The Russian-built boat -- commissioned in 1997 -- underwent a refit lasting more than two years after it had caught fire in 2010 and had only left its Barents Sea repair dock at the end of January.
Russian officials were quick to report that India had voiced no complaints after receiving the submarine in April.
"There have been no claims or technical complaints," the United Shipbuilding Corporation's spokesman Alexei Kravchenko told Russian state television.
The Russian firm that refitted the submarine also stressed that the craft was fully operational when returned to India.
A spokesman for the Russian Zvyozdochka ship repair company told RIA Novosti that "certain issues" had been raised when the INS Sindhurakshak was inspected by experts at the Severodvinsk port on the Barents Sea.
The unnamed spokesman did not give further details about the nature of the issues but said they were part of the "normal working process".
Russia's Interfax news agency also carried a report citing an unnamed "military-diplomatic source" who claimed that the INS Sindhurakshak could have been the target of a terror plot.
"We cannot exclude the possibility that someone was trying to ruin the Indian people's main holiday -- Independence Day -- which is celebrated on August 14," the Russian official told the news agency.
The official speculated that the boat could not have suffered an accident while in its dock because most of its main systems would have been probably switched off. However no further evidence was given to back up the claim.
AGEING FLEET
India's navy has had far fewer accidents than the air force, dogged for years by crashes of Russian-made MiG-21 fighters.
However, the country's fleet of 14 submarines is in urgent need of modernisation and has been hampered by delays in government decisions as it battles corruption allegations.
The Indian Navy's Sindhurakshak submarine is docked in Visakhapatnam in this February 13, 2006 file photo. (Reuters)
Efforts to build a domestic arms industry to supply the military have made slow progress, with the country still the world's largest importer.
Earlier this week a locally built aircraft carrier slipped into the sea, though it is not due for completion until 2017.
The navy also announced that the reactor on its first indigenous nuclear submarine was now operational as part of a plan to build a powerful navy to counter China's growing presence in the Indian Ocean.
The Indian Navy's Sindhurakshak submarine is docked in Visakhapatnam in this February 13, 2006 file photo. (Reuters)
INS Sindhurakshak completed a 2-1/2 year upgrade at a Russian shipyard a few months ago.
The vessel, which was fully operational with weapons onboard, was half-submerged after the fire. A team of navy divers was mobilised to search for survivors and 16 fire tenders were brought in to put out the blaze, local media said.
"There was a loud explosion post-midnight and I woke up,"said Dharmendra Jaiswal, who manages a public toilet opposite the naval dockyard. "I could see the skyline was bright and I could make out that some fire or blast had occurred inside."
Three people who were near the submarine at the time of the explosion were injured and being treated in hospital, spokesman Satish said.
Follow Emirates 24|7 on Google News.