Mumbai plotter 'set sights' on Denmark attack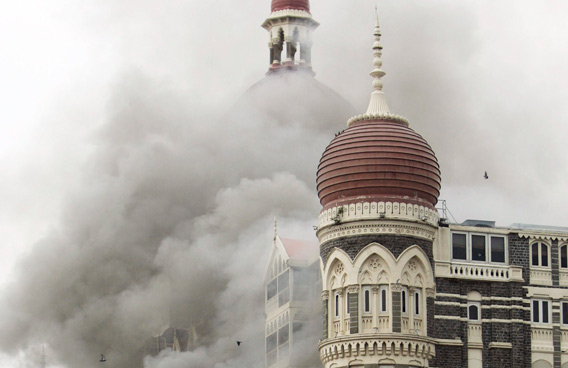 The Pakistani-American who plotted the 2008 Mumbai attacks scoped out the city of Copenhagen and a Danish newspaper office for a planned strike which was later aborted, a court heard Wednesday.
David Coleman Headley told a federal court in Chicago that since 2009 he had carried out detailed video surveillance of the Danish newspaper Jyllen Posten, which had published controversial cartoons of the Prophet Mohammed.
Five video clips played by the prosecution showed general shots of King's Square in the heart of the Danish capital, as well as the glass frontage of the newspaper's offices and a back alley.
Headley also shot images of a parade of Danish soldiers dressed in ceremonial gear and carrying weapons.
He said he later went to the soldiers' barracks and spoke to a captain about whether the weapons were loaded. When the captain said "yes," Headley asked, "Why? There does not (seem to) be a threat around here."
The captain replied, "You never know," Headley said in court.
The videos were shown to the jury as evidence in the trial of Chicago businessman and Canadian-Pakistani national, Tahawwur Hussain Rana.
Rana is accused of providing Headley with a cover and acting as a messenger in the Mumbai attacks in late 2008 in which 166 people were killed.
He is considered to have played a behind-the-scenes logistical role in both the Mumbai attacks and the abortive plan to strike Copenhagen.
Rana has denied all charges, and his defense argues that he was duped by his friend, whom he had met in military school.
Headley has said that Pakistan's secretive Inter-Services Intelligence (ISI) provides covert support to the banned militant group Lashkar-e-Taiba (LeT), which India has blamed for the Mumbai attacks.
When asked Wednesday whether the ISI had trained him, Headley replied: "They did," adding that the training took place in a two-story white building near the airport in the Pakistani city of Lahore.
The plot on Copenhagen was eventually aborted because of the intense pressure in the aftermath of the Mumbai attacks and due to a lack of funds, weapons and manpower.
Headley also spoke about a visit to England to meet two unidentified men who were expected to help put the Danish newspaper attack into motion.
Instead of the promised 10,000 pounds (ê16,200) the men gave only 2,000 and failed to provide any manpower or weapons.
After the Mumbai attacks, Headley met with Rana in December 2008 in Canada, where Rana also has citizenship, and told him of plans to attack the Danish newspaper.
A twice convicted drug dealer, Headley formally admitted to 12 terror charges in March 2010 after prosecutors agreed not to seek the death penalty or to allow him to be extradited to India, Pakistan or Denmark on related charges.
The Mumbai attacks stalled a fragile four-year peace process between India and Pakistan, two South Asian neighbors and nuclear-armed rivals, which was only resumed in February.
Follow Emirates 24|7 on Google News.