One road in, one out... JLT residents complain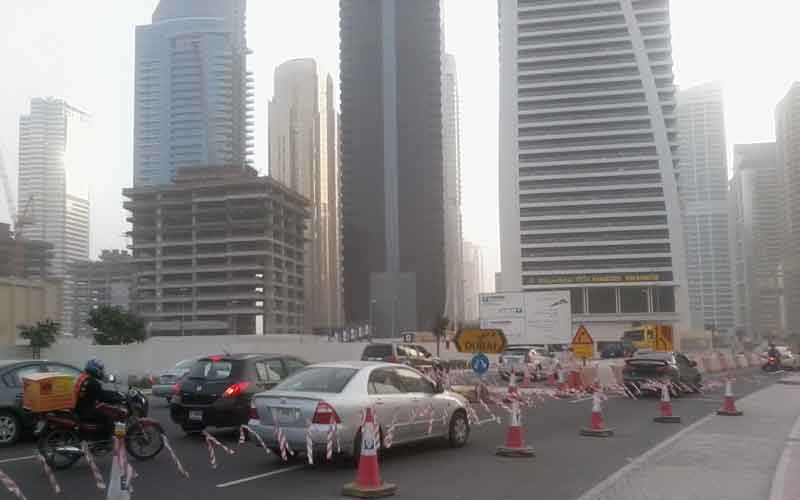 Jumeirah Lakes Towers (JLT) is a much-desired residential place to reside and do business in.
Getting in is one thing, but getting out can be a nightmare. Especially during peak traffic hours.
The residential and commercial freezone area in the heart of Dubai, is situated next to Sheikh Zayed Road and serviced by two metro stations; Dubai Marina and Jumeirah Lakes Towers.
Accessible by a foot-bridge from Dubai Marina and characterised by its promenade linking the four man-made lakes and clusters of buildings, one would expect Jumeirah Lakes Towers to be one of the most accessible areas of Dubai.
It's the road network that troubles residents the most.
But, not everyone agrees. "It is bad!" says Trudy Brusselman (51) from the Netherlands, referring to the road network that links JLT to Sheikh Zayed Road.
"You have to imagine that a five-lane road suddenly turns into a one-lane road, and everybody needs to get onto that lane. It creates huge traffic jams!"
Previously, the five-lane road that runns parallel to Sheikh Zayed Road on the south side of the lakes ended up in a roundabout, where drivers had the chance to either take the direction of Sharjah or Abu Dhabi, but this has recently become a two-lane juncture. "The roundabout was much better," says Trudy.
"Now drivers for both directions suddenly get confronted with the junction, and have to move quickly from one side to another, having only one lane to pick."
Residents also complain about the lack of streetlights and labourers crossing the road in the dark.
Actually, Trudy is lucky, because she lives in cluster Y, on the south side of the lakes. This means that she needs to face the traffic jam only once a day, when she goes to work.
However, the problem is worse for those people living on the northern side of the lake, considering the fact that the road around the lake is a one-way road.
"When I get off Sheikh Zayed Road, I need to drive all around the lake to reach my cluster," says Rabia Khan (34) from Pakistan, who lives in Tanweel building.
And this means facing the same troubles twice a day.
The master developer of Jumeirah Lakes Towers, DMCCA made the road around the lake as a one-way road to prevent accidents from happening.
However, it is an obstacle for many, as it means more people spending more time on the road. For Lijie from China, resident of Almas West, it is particularly a problem because she does not have a car.
"I go shopping in JBR, because it is cheaper there. But the taxi to go there costs me a lot, because it has no choice other than to drive around the whole lake. And not only residents find difficulties here.
"My supplier has to drive around the whole lake to reach my market," says Ali, manager of supermarket Red Horse, which is located right next to the main road. Adding up the risk of ending up in a traffic jam, makes driving to and from JLT an unfavorable option.
"For some destinations, the metro is the best solution," says Trudy, who leaves her car at home when possible.
"And it is not too far a walk, only about ten minutes from my building."
The metro will be a quick solution for all residents of JLT, as RTA is expected to build bridges crossing the lakes before the end of this year.
"We do work closely with RTA to ensure that the roads are finished as soon as possible," DMCCA said in an emailed response.
Whether this means that the roads will be restructured once again is unclear.
RTA had not yet responded to questions sent in by this website at the time of publication.
Follow Emirates 24|7 on Google News.