Pregnant mother, 2 kids dead after floods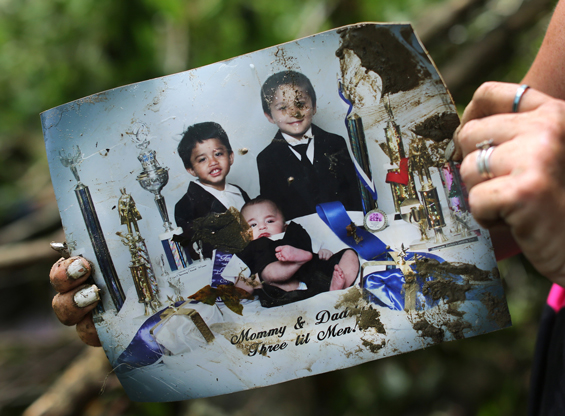 A pregnant Ohio mother and two of her children were found dead after floodwaters tore apart the family's mobile home early Sunday morning.

The family of six was at home in Ripley, about 53 miles south of Cincinnati, when flash flooding lifted their mobile home from its foundation and washed it into a nearby creek.

Police confirmed the victims to WCPO as 32-year-old Vicky Kenner, six months pregnant, 7-year-old son Gabriel and 5-year-old daughter Rose.
Jeff Downing, walks around his property in Ripley, Ohio. (AP)

Officials say the family's father and two other children survived.

Georgetown Village Administrator Art Owens said one of the surviving boys was found in a tree. The survivors were taken to a Cincinnati hospital.
Debris rests on the bank of Red Oak Creek where a mobile home was swept off its foundation in Ripley, Ohio. (AP)

Owens says Red Oak Creek flooded as rain fell as heavy as 4 inches an hour. The rain also flooded streets in nearby Georgetown.
Follow Emirates 24|7 on Google News.