15 die as Syrians march demanding Assad's ouster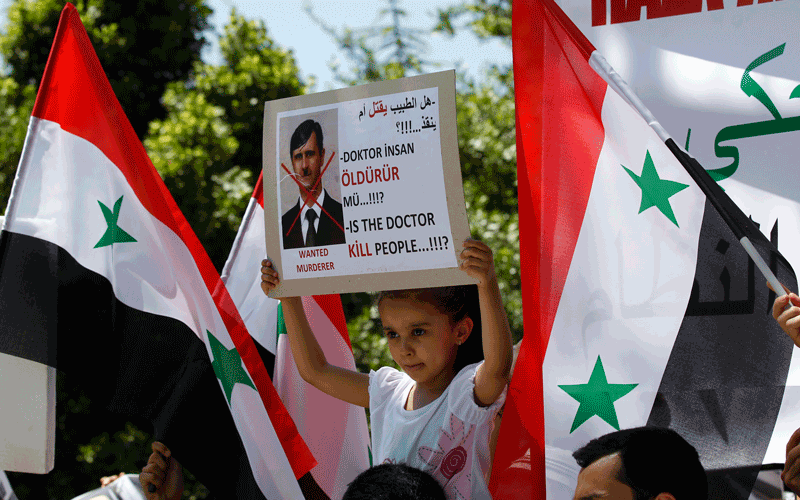 Defying government guns, thousands of Syrian protesters poured down city streets and a main highway to press demands for President Bashar Assad's ouster. Security forces opened fire, killing at least 15 people, including two children, activists said.
"Our revolution is strong! Assad has lost legitimacy!" a YouTube video showed protesters chanting Friday in Zabadani, a suburb of Damascus, the Syrian capital.
Syria's streets have become the stage for a test of endurance between a three-month-old pro-democracy movement, bloodied but resilient, and an iron-fisted but embattled regime. The latest round of protests and killings came as international pressure mounted on Assad.
"We will not stand by while the Syrian regime uses violent repression to silence its own people," British Foreign Secretary William Hague said after the European Union expanded sanctions — asset freezes and travel bans — to more members of the Syrian leadership.
The Syrian opposition says 1,400 people have been killed as the government has cracked down on a movement demanding an end to four decades of Assad family rule — a popular uprising renewed each Friday after weekly prayers.
Five people were killed by security forces' gunfire this Friday in Barzeh, a Damascus district five kilometres from the city centre, said the Local Coordination Committees, which track the protests. But Syrian state television offered another version, saying gunmen, otherwise unidentified, had opened fire on security personnel and civilians, killing three civilians and wounding several security force members.
Five other fatalities occurred in Al Kasweh, a suburb of the capital; four in the central city of Homs, and one in Hama, also in central Syria, said the Local Coordination Committees (LCC). Protests in several other provinces also came under fire but it was not immediately clear whether there were casualties, said LCC spokesman Omar Idilbi.
The group said the deaths included a 12-year-old boy, Rateb Al Orabi, killed when security forces fired on protesters in the Shammas neighborhood in Homs, and a 13-year old boy in Al Kasweh. The reports could not be independently verified.
In northern Syria, activists said at least 15,000 people staged a protest along the highway linking the country's two main cities, Damascus and Aleppo. Thousands marched in Amouda and Qamishli in the northeast and in other provinces, said Syria-based human rights activist Mustafa Osso.
Osso and the LCC both reported a few soldiers defected in Al Kasweh after security forces shot at protesters, resulting in a shootout between loyal soldiers and defectors. Syrian TV swiftly denied the mutiny report, saying the army wasn't even inside Al Kasweh Friday.
The report from Osso, which he said came from protesters and other area residents, could not be independently verified.
In Hama, activists said, a massive protest took place in the city's main Assi square. Online footage showed huge numbers of people gathered, many waving Syrian flags and crying for the regime's downfall. A large purple banner was unfurled over a building, reading: "Long live free Syria, down with Bashar Assad."
The video and other reports from inside Syria could not otherwise be confirmed, since the Damascus government has banned all but a few foreign journalists and restricted local media's reporting.
In a speech last Monday, Assad said the disruptive protests threatened to damage the Syrian economy. For now, he can count on the support of Syria's small but growing middle class, which has seen life gradually improve since he began opening up the economy. But if the economy crumbles, Assad could find his main base of support eroding swiftly.
"The economic problems Syria is facing are a direct and predictable consequence of the Syrian authorities' decision to chose repression over reform," Britain's Hague said.
The military's recent sweep through northwestern Syria, where armed resistance flared in early June, has sent more than 11,000 refugees fleeing across the border to refugee camps in Turkey.
Osso said those who did not flee on Thursday, as Syrian troops advanced right to the Turkish border, were arrested — some 100 over the past two days.
Turkish Foreign Minister Ahmet Davutoglu told reporters Friday he had conveyed Turkey's "concerns and thoughts" about the border-area military operation in a telephone conversation with his Syrian counterpart on Thursday. He said he would continue to talk to Syrian officials to ensure that "reforms and peace are brought about as soon as possible."
"We hope that Syria is successful in renewing itself in a stable manner and comes out of the situation stronger. We will do all that we can to help," he said.
Follow Emirates 24|7 on Google News.