Crane crash at Grand Mosque kills 107; UAE Haj mission safe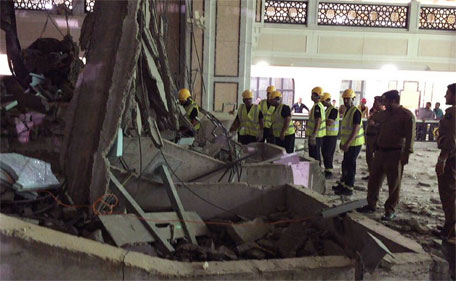 At least 107 people died and 238 have been injured after a crane collapsed at the Grand Mosque of Makkah ahead of the annual Haj pilgrimage, the Saudi Interior Ministry said on Friday.
Emirates News Agency (WAM) confirmed that members of the UAE Official Haj mission were all safe.
The Kingdom's General Directorate of Civil Defence blamed the accident on severe storms, according to its official Twitter.
The governor of the Makkah region Khalid Al Faisal has ordered the launch of an investigation into the causes of the accident.
The tragedy comes ahead of the annual Haj pilgrimage which is due later this month.
Millions of Muslims from around the world will converge on the holy city between September 21-26.
Photos taken from the scene and posted on social media show bodies lying in blood on the mosque's floor surrounded by construction rubble and metal parts of the crane.
Over 68 emergency and rescue groups are active at the scene of the accident, the Saudi Red Crescent said on Facebook.
Director General of the Civil Defense Authority, confirmed to 'Al Ikhbariya' television that storm winds had uprooted trees and affected cranes in the area.
"All those who were wounded and the dead have been taken to hospital. There are no casualties left at the location," he added.
The nationalities of the dead and injured pilgrims are yet to be announced. Consuls General of India, Pakistan and Bangladesh told 'Saudi Gazette' that so far there were no confirmed reports of death among their pilgrims.

Ahmad Al Mansouri, spokesman of the Presidency for the Affairs of the Two Holy Mosques, said the tragedy occurred at 5.10 pm due to strong winds and heavy rain, causing a part of the crane to smash into the part of the Grand Mosque where worshippers circumambulate the Holy Kaaba (mataf) and where pilgrims walk between Mount Safa and Marwa (mas'a).
Earlier report:
The Saudi Civil Defence announced on Friday evening that 65 people were killed and 154 sustained injuries when the crane collapsed at the Grand Mosque.
According to Saudi Press Agency (SPA), Prince Khalid Al Faisal, Advisor to the Custodian of the Two Holy Mosques and Governor of Makkah Region, has directed to form a committee in order to investigate reasons of crane's fall in the Grand Mosque and submit the outcomes urgently.
In a press statement, Sultan Al Dosari, Director-General of Public Relations and Media at Makkah Principality, said the Governor of Makkah Region is following the incident with the competent authorities, and added that Prince Khalid has directed relevant authorities to provide support and treatment for all injured people.
Follow Emirates 24|7 on Google News.