Heavy clashes near Bab Al Mandeb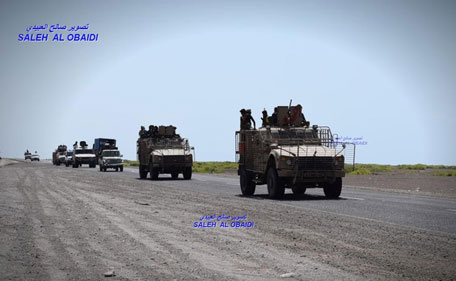 Heavy clashes erupted on Monday when Yemen's national army and resistance fighters attacked coup rebel positions in the Southwestern governorate of Taiz near the strategic Bab Al Mandeb waterway, a news network reported on Tuesday.

The fighters launched an offensive against the Iranian-backed insurgents after they shelled civilian areas in the province from their positions in the surrounding hills.

Masdar Online said the attack coincided with intensive raids by Arab coalition Apache helicopters on rebel targets in that area, resulting in the death of many insurgents and the destruction of several Houthi military vehicles.

"Heavy fighting flared after the army and resistance attacked the rebels in Dhubab near Bab Al Mandeb in Taiz," the network said, quoting local residents.

It said the army and national fighters also attacked an area near Dhubab where the Houthis and their allies receive their arms supplies.

It said coalition jets continued their raids against the rebels in other areas as the army and resistance fighters push ahead with their offensive to seize the entire Taiz.

Follow Emirates 24|7 on Google News.