Man given death certificate by mistake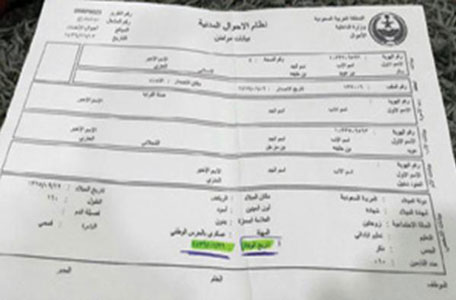 A Saudi lived for four months as a dead man as he was deprived of all government services and his bank account cancelled after he was given a death certificate by mistake by a civil servant, a newspaper reported on Wednesday.

Salim bin Owaid Al Anzi, quoted by the Arabic language daily 'Al Watan', said he went to the personnel department in the capital Riyadh to have a death certificate issued in his dead father's name but was given a certificate in his name.

He went back to the employee and asked him to correct the mistake but it was done, he said, adding that he had to shuttle hundreds of miles between his home in the Eastern Ihsa province and the capital to have the mistake corrected.

"They corrected it after four months, but I suffered during this period. All government services to me were stopped and the bank cancelled my account on the grounds I am dead.

"The insurance firm also cancelled my car insurance and I had to pay SR5,000 after I had a road accident without insurance," Anzi said.
Follow Emirates 24|7 on Google News.