Mums flood Saudi school on gender-mixing report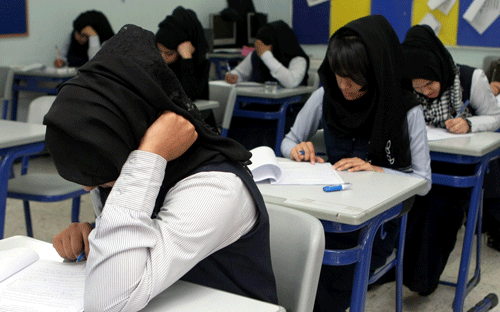 Worried mothers packed a Saudi primary girls school after they learned it would allow little boys to join classes along with their daughters, causing disruption of classes for nearly a week, al Watan newspaper reported on Friday.
The mothers and other custodians of the school girls continued to pour into the school every morning for nearly a week despite assurances by the headmistress that the boys had been admitted to school but into a separate building.
The crowd kept escorting their children into Alabrar School in the central town of Madina and stayed inside for long hours to make sure their daughters are not mixing with the new male entrants, the paper said.
"They continued to pack the school for most of last week after that school got approval by the Ministry of Education allowing it to have boys…the report gave rise to rumors through some websites that the boys have been moved into the same classes where the girls study," the paper said.
It quoted the school's head, Noha Surour, as saying the problem had been caused by rumors that the school would allow gender mixing.
"They were wrong because there will be no sex-mixing in classes.…we reassured them that the boys had been moved into a separate building and separate classes…they will use separate toilets, separate canteens and separate gates…we received approval from the Ministry of Education to admit boys until the second primary class and we are the first school in Madina to do so."
Surour said 25 boys had enrolled in two primary classes in the school and that there are plans to open a third class for them.
Alwatan quoted the school's owner, Abdul Hafeez Alakluk, as saying he had received many phone calls criticising him for allowing boys in his school.
"Some Islamic scholars have even criticised this plan…but I told them that what they have thought would not happen because boys will have separate buildings in the school…the only thing is that they will have female teachers but their age is only between nine months and five years," he said.
Saudi Arabia, one of the most conservative Muslim countries, still bans gender mixing at its schools despite a controversial decision by King Abdullah last year to establish the Gulf Kingdom's first co-educational institution—the King Abdullah University of Science and Technology (KAUST).
KAUST, which has been criticised by some Muslim scholars inside and outside Saudi Arabia, is designed to produce Saudi scientists and is the only educational institution in the world's oil superpower where men and women can mix. It is located near a Red Sea village away from the clutches of religious police.
Follow Emirates 24|7 on Google News.