Princess offers reward for missing boy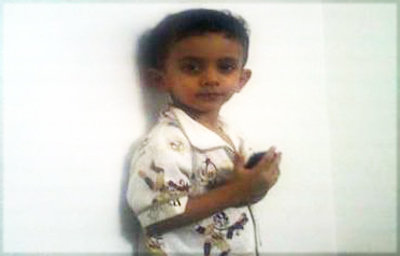 A Saudi princess has announced a big reward for information leading to the whereabouts of a four-year-old boy who vanished last week just after he stepped out of his house to follow his mother, a newspaper reported on Monday.
The unnamed princess said it would give SR200,000 ($54,000) to any one who provides information that will help police find Ahmed Al Gamdi nearly a week after he went missing in the western town of Taif.
"The princess, who wished to remain anonymous, has announced a reward of SR200,000 for any clue or information that will help locate the whereabouts of Ahmed," Sabq Arabic language daily said.
Ahmed left his house on Tuesday morning after the Indonesian housemaid forgot to lock the door behind the boy's mother who went out shopping.
Police probing his disappearance were told by friends they saw Ahmed playing in the area while others said they saw him crying near a mosque.
Other children told his father they saw an old man taking Ahmed away. His father Fahd Al Gamdi said he rushed on the same day to another house after he was told his son was seen there.
Newspapers said police had expanded the search by posting photographs of the missing boy in public places and sending them out to mobile phones in the area.
Follow Emirates 24|7 on Google News.