Saudi ordered to deport foreign wife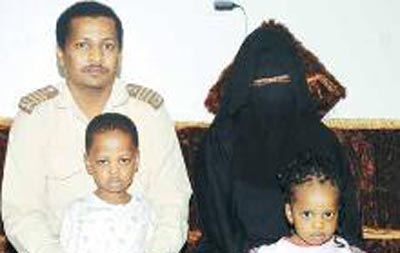 Saudi authorities have ordered a local man to deport his Chadian wife for breaking the foreign marriage law although they have two children and his wife is pregnant again, local newspapers reported on Sunday.
Police in the eastern port of Dammam this week gave Mustafa Ghalib Al-Bargi one month to deport his wife to her home country or he will face prosecution, Okaz Arabic language daily said.
"Police said they are taking these measures because Al Bargi married his foreign wife without getting permission from the authorities concerned," it said.
It quoted Al-Bargi as saying his marriage in the Kingdom was approved and documented by the Chadian embassy in Riyadh.
The man told the paper that he has two sons aged two and three years and that his wife is pregnant again.
"Al-Bargi has broken the law and is liable for punishment," the paper said, quoting Bandr Al-Makhlif, spokesman for the Eastern Province Police.
Okaz said Al-Barqi, who works as a security guard at a private firm in Dammam, married nearly six years ago but it did not mention whether he had agreed to send his wife home or if he can appeal the decision.
Saudi Arabia, which strictly enforces Islamic law, has introduced curbs on mixed marriage following a surge in such cases and in the number of local spinsters.
Follow Emirates 24|7 on Google News.