Saudi's one-million houses plan falls short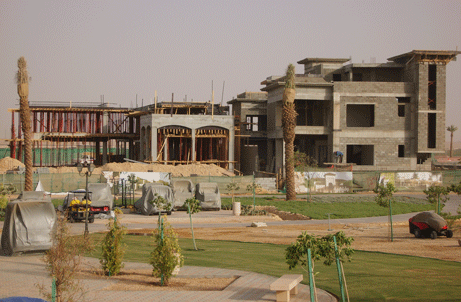 Saudi Arabia failed to meet its target of building one million houses during its 2005-2009 development plan which ended with a shortage of nearly 400,000 units, according to the Gulf Kingdom's main economic newspaper.
Aleqitisadiah Arabic language daily said the eighth five-year plan also missed many other targets, mainly the issuance of the mortgage law and other regulations that could have largely eased the current housing crisis.
"The 2005-2009 fell short of attaining its target of constructing one million houses……the plan failed to build 400,000 houses of the planned one million units," the paper said, citing a housing survey it has conducted.
"The plan has also failed in enacting and completing the property and legislative laws that could have largely alleviated the festering housing problem."
Out of the 66,000 low-cost houses announced in the plan at a total cost of around SR10 billion, only about 8,000 units have been constructed, it said.
Saudi Arabia, the world's oil basin, has cited soaring rents as one of the main drivers of inflation, which soared above six per cent in August, far higher than the rate recorded in its partners in the six-nation Gulf Cooperation Council (GCC).
Official data showed the consumer price index climbed to its highest level of 6.1 per cent of more than a year in August.
"Inflation in Saudi Arabia is driven by three main factors: housing shortages, food prices and trading partners' inflation," the Saudi American Bank said.
"Rental inflation is largely driven by expansion in the non-oil economy. The lack of marginal supply means that demand for additional expatriate workers is quickly registered in higher rents," it said in a study.
Its figures showed that on a year-on-year basis, rental inflation has been trending downwards since the top of the previous economic cycle in mid-2008.
"However, there are signs that the 12-month rate is stabilizing—at a rate of almost nine per cent. The number and scale of public sector projects should see expatriate demand pick up significantly in the final four months of this year and into 2011, and with limited additions to supply, rental inflation may well begin to increase as we move into 2011."
Announcing its ninth development plan for 2010-2014, Riyadh again set a target of spending SR100 billion (Dh99 billion) to build one million houses.
"As for municipal and housing services, the five-year plan aims to build one million housing units to meet nearly 80 per cent of the projected demand within the next five years…more than SR100 billion will be invested in this sector, an increase of around 64 per cent over the previous plan," the government said.
"The General Housing Authority has been asked to devise a strategy for housing in the Kingdom, including the creation of a housing data base."
The massive five-year plan, which involves record high public expenditure and investments, aims to increase the GDP per capita income from around SR46,200 (Dh45,500) in 2010 to SR54,200 (Dh52,600) in 2014.
Around SR731 billion (Dh728 billion) would be earmarked for development of human resource, including education and training, more than 50 per cent of the total development allocations of around SR1,444 billion (Dh1,440 billion).
Allocations include nearly SR237.9 billion for health, SR111.1 billion for transport, and nearly SR227 billion for economic resources.
"Part of this spending is designed to support still-fragile private sector confidence, but the overarching aim is to improve and expand civil infrastructure, investment in which lagged for much of the 1980s and 1990s," Samba said.
"A key area is housing, in which the country has a deficit variously put at between 500,000 and one million units. The new plan increases the funds available for municipal and housing services by 53 percent, though at SR20 billion, this can only really be viewed as an adjunct to a broader private sector push to build new homes, particularly at the lower end of the income scale."
Like other Gulf oil producers, Saudi Arabia has been reeling under a housing supply shortage because of high population growth and strong demand by companies and other investors during the latest oil boom.
The shortage has sharply boosted rents, which allied with the weakening US dollar, a surge in global commodities prices and other factors to stoke inflation in the world's dominant oil power. Inflation climbed to a record annual high rate of around 9.9 per cent in 2008 before falling by nearly half last year.
Banks and other institutions in the Kingdom believe inflation will remain under control this year and in 2011 but that housing shortages will keep it high.
According to Saudi Arabia's largest bank, National Commercial Bank (NCB), the Kingdom needs to construct nearly 158,000 houses every year between 2010 and 2020 to meet face a population growth of at least two per cent.
Follow Emirates 24|7 on Google News.