Stock market, schools closed in Bahrain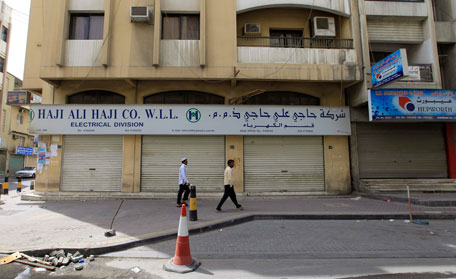 Bahrain announced Wednesday its stock market and schools would remain closed until further notice, after King Hamad imposed a state of emergency.
Bahrain begins clearing financial centre
Earlier, Bahraini troops began clearing Manama's financial district of illegal road blocks, as handfuls of protesters offered little resistance.
Military helicopters circled overhead as the troops escorted a bulldozer into the Financial Harbour business complex, the centre of a regional finance hub that hosts major international banks and multinational corporations.
Earlier this morning, security forces moved into Bahrain's Pearl roundabout to clear protesters who have camped out there for weeks, witnesses said.
Earlier, Bahrain's King Hamad declared a three-month state of emergency on Tuesday.
StanChart, HSBC close all Bahrain branches
Standard Chartered and HSBC Holdings said they have closed all their branches in Bahrain on Wednesday, after Bahraini forces clashed with protestors.
Bahrain on Tuesday declared martial law to quell worsening sectarian unrest that has sucked in troops from fellow Sunni-ruled neighbour Saudi Arabia.
StanChart has seven branches in Bahrain and HSBC has four branches, making them two of the leading foreign banks in the country. They had each kept two branches open on Tuesday.
Both banks said their priority was the safety of staff. StanChart has 500 employees and HSBC has 334. All were safe. The banks said other banking operations, such as ATMs, were operating as usual.
Follow Emirates 24|7 on Google News.