Yemeni PM wounded in shelling on palace mosque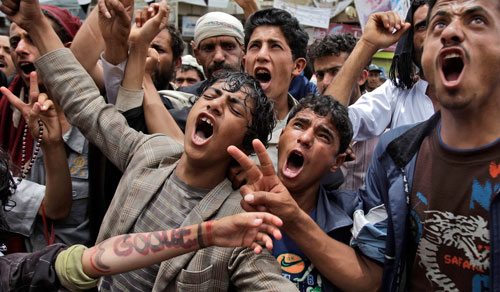 Yemen's prime minister and parliament speaker were wounded as shelling hit a mosque in the presidential compound on Friday, the ruling party spokesman told AFP.
Earlier, rival demonstrators took to the streets of Sanaa on Friday even as clashes between dissident tribesmen and loyalist troops rocked Yemen's capital, demolishing the headquarters of national airline Yemenia.
Security forces, meanwhile, were deployed in force to deter demonstrations in Taez, south of Sanaa, a flashpoint in the deadly revolt since late January against Yemen's veteran President Ali Abdullah Saleh.
Apart from the Yemenia headquarters burnt down as fierce clashes raged into a fourth day, the offices of Suhail TV, a channel controlled by pro-opposition tribal chief Sheikh Sadiq al-Ahmar, were also destroyed.
There was no immediate word on casualties from the latest fighting as medics said ambulance crews were unable to access the battlegrounds.
After a brief lull at dawn, artillery and heavy machine-gun fire rocked the Al-Hassaba neighbourhood of northern Sanaa where Ahmar has his base, witnesses said.
Three shells also struck near the university campus in the city centre where opponents of Saleh have been holding a sit-in since late January.
Despite the clashes, hundreds of anti-Saleh demonstrators gathered at Change Square, near the university, for a day of solidarity with Taez where security forces this week smashed a months-long sit-in protest at a cost of more than 50 lives.
Troops loyal to dissident General Ali Mohsen al-Ahmar were deployed to protect the protesters, although positions held by the rebel army units also came under artillery fire.
At the same time, as on past Fridays, the Muslim day of weekly prayers, a large crowd of Saleh supporters gathered at a square near the presidential palace for a rally broadcast on state television.
In Taez, security forces backed by Republican Guards fired in the air to prevent youths from rallying in Tahrir Square for Friday prayers, forcing them to gather in small groups at nearby mosques, an AFP photographer said.
More than 60 people have now been confirmed killed in the fighting in the capital since a fragile truce collapsed on Tuesday between Ahmar's heavily armed tribesmen and troops loyal to Saleh.
At the same time, Saleh, who has been in power in Sanaa since 1978, has faced nationwide protests against his rule for the past four months.
When Saleh last month refused to sign a plan by Yemen's Arab neighbours in the Gulf for him to step down in return for immunity, Ahmar's fighters seized public buildings across Sanaa, sparking clashes with troops loyal to the president.
A truce announced last week lasted just four days.
On the diplomatic front, Gulf Cooperation Council head Abdellatif Zayani said on Friday he was keeping up efforts to seek a negotiated settlement, as Saleh's camp continued to send out mixed signals on whether he would accept the plan.
And the White House said Thursday its top counter-terrorism aide John Brennan, currently on a visit to the Gulf, was working with US allies in the region to build pressure on Saleh to immediately cede power.
Nationwide, more than 200 demonstrators have been killed since the protests first erupted, according to an AFP tally based on reports from medics.
Follow Emirates 24|7 on Google News.