Yemeni rebels hide arms at diplomatic missions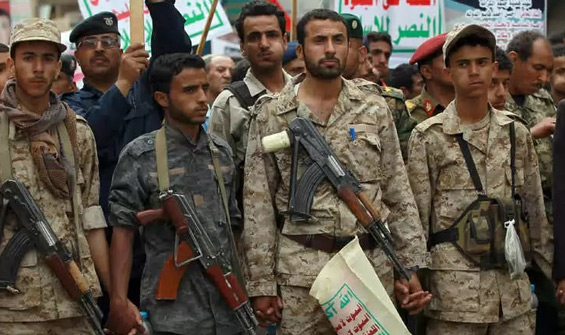 Yemen's coup rebels are hiding their weapons at diplomatic missions and houses of foreign diplomats in Sanaa after most of those diplomats left the capital because of the war, a UAE newspaper reported on Tuesday.
The Arabic language daily Albayan quoted residents in the rebel-controlled Sanaa as saying they saw armored vehicles and trucks carrying arms and ammunition entering diplomatic compounds in the capital after they were evacuated and shut.
"Witnesses said they saw many trucks and armored vehicles going into diplomatic missions to hide the weapons there," it said.
It said the move by the Iranian-backed Houthis and forces loyal to deposed president Ali Abdullah Saleh came after their military positions were targeted by the Arab coalition warplanes as part of a military campaign to quell the coup and restore legitimacy.
It quoted residents as saying the armored vehicles stayed inside those compounds while the trucks left empty after unloading the weapons.
"One resident said he saw some trucks unloading their shipments inside the houses of foreign diplomats who left the country," it said.
Most ambassadors and other foreign diplomats in Yemen shut their missions and left the country following the Iranian-backed coup last year.
Follow Emirates 24|7 on Google News.