Route 105: MoE to Miracle Garden­­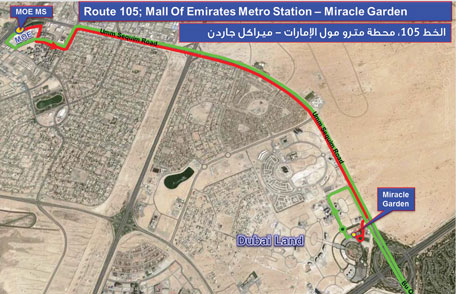 RTA's Public Transport Agency launched on December 17, 2015 an express public bus route named Route 105.

The new service is aimed to serve tourists and boost the public transport network in keeping with the growing demand for mass transit means in general and public buses in particular.

Adel Mohammed Shakri, Director of Business Development, RTA's Public Transport Agency said: "The new service, which is named Route 105, starts off Mall of the Emirates station on Sheikh Zayed Road and travels in a non-stop journey to the Miracle Garden at the Sheikh Mohammed bin Zayed Road, and back to the starting point in the same way.

"This service is widely popular amongst regulars, tourists, and visitors descending on Dubai from everywhere."

"The main objective of launching this route is to bring happiness to all community segments, be it citizens, expatriates, tourists or visitors from all over the globe.

"Route 105 offers service from Sunday to Thursday from 02pm to 08pm, and Friday and Saturday the service time will be from 12pm (midday) to 10pm.

"The headway (service interval) is 20 minutes from Sunday to Thursday, and 15 minutes on Friday and Saturday."

"Since launched on December 17 last year, this Route had served about 14,000 riders at a fare of Dh5.

"RTA is keen on broadening and improving the public bus network in order to enhance integration with other mass transit means like the Metro, and marine transport modes such as the Water Bus and the Water Taxis.

"The smooth integration of mass transit means will render public transport the ideal choice of mobility in Dubai," concluded Shakri.
Follow Emirates 24|7 on Google News.