Saudi spending to soar 41% in 2011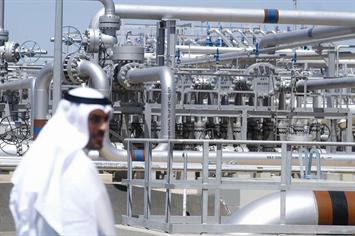 Saudi Arabia could boost actual public expenditure by a staggering 41 per cent in 2011 following a massive financial handout announced by King Abdullah for citizens over the past few weeks, a Saudi investment firm has said.
But the world's dominant oil power could still record a fiscal surplus to replace its budgeted deficit as a result of a sharp rise in crude prices and the Gulf country's oil output, the Riyadh-based Jadwa Investment said in a study.
Saudi Arabia, the largest Arab economy, projected spending at SR580 billion in 2011 and revenue at SR540 billion, leaving a shortfall of SR40 billion.
The budget was announced in late 2010 before the eruption of the current political upheavals in the Middle East and North Africa, a key factor in pushing crude prices much above $100 a barrel. The budget release also preceded the announcement of the royal initiative involving spending of nearly SR500 billion.
Jadwa forecast actual expenditure to soar to a record high of around SR821 billion in 2011, an increase of nearly 41 per cent above the budgeted spending.
But it also expected revenue to jump by nearly 70 per cent to SR916 billion on the back of higher crude prices and production. The increase will turn the budgeted gap into a surplus of about SR95 billion in 2011.
It will be the second year running that the Saudi budget will record a positive balance after the SR109 billion surplus in 2010.
Low oil prices in 2009 allied with high expenditure because of counter-crisis fiscal measures to plunge Saudi Arabia into a deficit of around SR87 billion for the first time in nearly a decade after basking in an all time high surplus of S581 billion in 2008, when oil prices averaged a record high of $95.
"There will be a substantial increase in government spending in 2011 and expenditure over the medium term will be greater than we had previously anticipated……..however, with both oil prices and oil production also set to be well above our earlier forecast, we think that there will still be a budget surplus in 2011 and 2012," the study said.
It expected government spending to fall in 2012 as the two month's salary, funding for the Real Estate Development Fund, Saudi Credit Bank and General Housing Authority and additional allocation to the Ministry of Health are assumed to be one-time items, as are many of the smaller components of the package.
"For others it will be difficult to remove. For example, we have not adjusted our forecasts to take account of the permanence of the 15 pay adjustment for public sector employees, as we did not foresee this being withdrawn," the report said.
"Higher oil revenues will be sufficient to ensure that the budget stays in surplus in 2011 and 2012 despite the large additional spending."
For 2012, Jadwa expected actual public spending to fall back to around SR777 billion but added revenue would remain as high as around SR833 billion. This will create a surplus of nearly SR56 billion.
The report also expected the fiscal surplus in 2011-2012 to allow Saudi Arabia to further cut its public debt from around SR167 billion at the end of 2010 to SR160 billion at the end of 2011 and the same level at the end of 2012.
The decline will depress the debt ratio from 10.2 per cent of GDP in 2010 to around 8.2 per cent in 2011 and 2012.
Saudi Arabia had reeled under massive public debt in late 1990s and early 2000s due to large budget deficits before it was slashed over the past few years because of the surge in crude prices. The debt was almost equivalent to its GDP in 1999 before falling to SR614 billion or 65 per cent of GDP in 2004. It plunged to nearly SR237 billion at the end of 2008, around 13.3 per cent of GDP.
Strong oil prices also boosted the Kingdom's gross foreign assets from only around $128 billion at the end of 2004 to nearly $520 billion at the end of 2010. Jadwa expected them to swell to $595 billion at the end of 2011 and $637 billion at the end of 2012.
Follow Emirates 24|7 on Google News.