Second scare for Australian airline in a week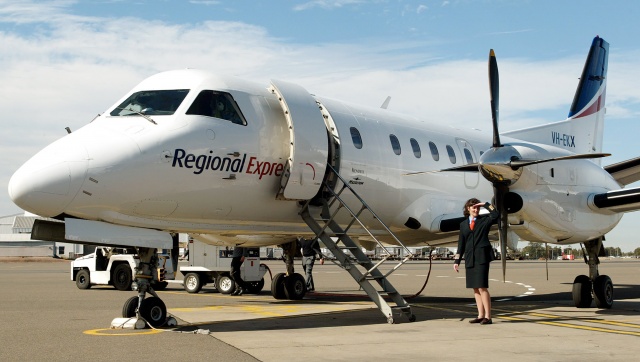 A regional Australian airline plane made an emergency landing Thursday after the pilot was forced to shut down an engine, barely a week after a propeller fell off another aircraft mid-flight.
The Regional Express (Rex) plane carrying 23 passengers was heading to Sydney when a warning light came on in the cockpit, with the pilot managing to safely return to the town of Dubbo, the carrier said.
"We were about 10 minutes out of Dubbo and all of a sudden there was this big loud noise and a shaking of the aeroplane," passenger Tim Evans told the Australian Broadcasting Corporation.
"I happened to be in a seat just next to the engine and I saw these flames came out of the engine.
"Then it did another big bang and a shake of the plane and all of these embers came out of the engine and I looked at the propeller and it was clear the engine had stopped."
It was the same Saab 340 model plane as involved in a near-disaster last Friday when a pilot shut down one of two engines after "abnormal indications" before the propeller sheared off.
Despite this, the flight landed safely in Sydney.
"It is not possible to tell at this stage whether the cause is from foreign object ingestion (such as a bird) or from engine failure," Rex said in a statement about the latest incident.
"It is also clear that this matter is unrelated to the incident regarding the propeller of flight ZL768 on March 17."
Following Friday's scare, which is being investigated by transport authorities, Rex removed from service all planes using similar propeller gearboxes and shafts, accounting for six jets from its fleet of 55.
Regional Express is Australia's largest independent regional airline, operating some 1,500 weekly flights to 58 destinations throughout the country.
Follow Emirates 24|7 on Google News.