Sheena Bora murder: DNA evidence closing noose around Indrani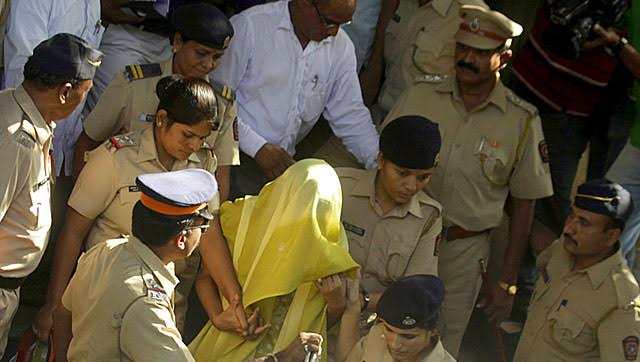 The skeletal remains of the body found in the Gagode forest area at Penn in Raigad district near Mumbai, are indeed Sheena Bora's the Mumbai Police now state.

The DNA samples taken from the body purported to be of Sheena Bora matched with both Indrani Mukherjea, her biological mother and Mikhail Bora, her brother, according to tests done by a laboratory at Kalina in suburban Mumbai.

This also means that Indrani's claim during her interrogation that Mikhail was not her biological son, but an adopted one is also untrue.

The police had already maintained that the digital superimposition of Sheena's face on the skull had also matched along with her nose, cheekbones and her teeth too.
Indrani's ex-husband and a co-accused Sanjiv Khanna. (Sanskriti)

Since the police had also claimed that they have extracted a confession from Indrani earlier during interrogation, the police sent her and her driver Shyam Rai to judicial custody.
This means that both of them are now being lodged in the famous Arthur Road prison at Byculla where many known criminals are housed.
Indrani will be kept at the Byculla Women's prison till September 21.
Since Indrani is now in judicial custody, she can apply for bail even though the police are bound to appeal against the same.
The same applies for driver Shyam Rai as well.
It will be interesting to see if Indrani pays for his bail too as reports are that the police plan to make him an approver in the case.
Meanwhile, Indrani's ex-husband and a co-accused in the case Sanjiv Khanna was sent to Kolkata with the Mumbai police.
The Mumbai Police had asked for an extension of his custody and extended his mandatory term in police custody stating that they wanted to get more details of financial transactions done through Sanjiv's accounts.

Sanjiv's residence and his friend's house at Alipore in Kolkata were also searched by the cops hunting for laptops mobile phone and other documents pertaining to Sanjiv's financial investments which could serve as evidence.
Sanjiv who has been rather co-operative with the policemen from Mumbai is also expected to be produced in a Kolkata court tomorrow.
The police are still perturbed about why the said location was chosen to dump off the body.
Though the accused are said to have scouted for many locations to dump the body, including the Lonavla area, the choice of Gagode forest seems to be a rather 'professional' one.
Follow Emirates 24|7 on Google News.