Shocking moment US diplomat slashed in face with razor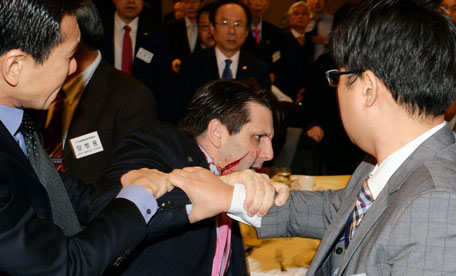 US ambassador to South Korea Mark Lippert was slashed in the face by a Korean nationalist but was not seriously hurt during an attack at a breakfast forum held in the capital on Thursday to discuss Korean reunification, police and witnesses said.

Lippert, 42, was bleeding from a facial wound but was walking after the attack as he was taken to the hospital. He was later reported to be in stable condition and officials in Washington said his injuries were not life-threatening.

The assailant was caught by police and identified as 55-year-old Kim Ki-jong. In 2010, Kim tried to attack the Japanese ambassador to Seoul by throwing a piece of concrete and was given a suspended jail term, according to police.

US ambassador to South Korea Mark Lippert (C) covers a wound to his face as he leaves the Sejong Cultural Institute in Seoul on March 5, 2015, after he was slashed on his face and arm by a blade-wielding assailant shouting anti-war slogans in an attack, police and reports said.(AFP)

Witnesses and police said Kim used a small fruit knife in the attack, which took place inside a large government arts centre across the street from the heavily guarded US embassy on Seoul's main ceremonial thoroughfare.

"We strongly condemn this act of violence," US State Department spokeswoman Marie Harf said.
US President Barack Obama quickly called Lippert to wish him a speedy recovery, a White House official said.

The assailant was dressed in traditional Korean clothing and shouted that North and South Korea should be reunited just before he attacked Lippert. He also shouted that he opposed "war exercises", a reference to annual joint U.S.-South Korean military exercises that began this week.
US ambassador to South Korea Mark Lippert covers a wound to his face as he leaves the Sejong Cultural Institute in Seoul on March 5, 2015, after he was injured in an attack by an armed assailant, television reports said. (AFP)

"I carried out an act of terror," Kim shouted as he was pinned to the floor by event attendees.

Kim said while in police custody he had acted alone. South Korea's Yonhap news agency reported that Kim also said he was part of a group that had cut and burned a U.S. flag on the embassy grounds in Seoul in 1985.

Kim is a member of the pro-Korean unification group that hosted the event, police said. He also stages one-man protests against Japan over disputed islands known as Dokdo in Korean and Takeshima in Japanese.

"The guy comes in wearing traditional Korean brown and tan dress. He yells something, goes up to the ambassador and slashes him in the face," witness Michael Lammbrau of the Arirang Institute think tank told Reuters.
A man (bottom C) who attacked US ambassador to South Korea Mark Lippert is detained by police outside the Sejong Cultural Institute in Seoul on March 5, 2015. (AP)

'Wrestled to the ground'

Police were at the venue as part of routine operations but not at the request of the U.S. embassy or the organiser, a police official said.

"People wrestled the guy to the ground, the ambassador was still in his chair. The ambassador fought him from his seat ... There was a trail of blood behind him. He had about a seven inch-long gash on the right side of his face," Lammbrau said.

Lammbrau said the man shouted about Korean independence while he was being restrained. "It sounded like he was anti-American, anti-imperialist, that kind of stuff."

A man understood to be Kim Ki-Jong (C) who attacked US ambassador to South Korea Mark Lippert is carried on a stretcher following the attack, in Seoul on March 5, 2015. (AFP)

Known for his open, informal style, Lippert is active on Twitter and can often be seen walking his basset hound, Grigsby, in Seoul. His wife recently gave birth to a son, who was given a Korean middle name.

Thursday's event was hosted by the Korean Council for Reconciliation and Cooperation. The group later issued a statement in which it condemned the attack and apologised to the governments of the United States and South Korea.

The annual US-South Korean military exercises routinely provoke an angry response from North Korea, which denounces them as a preparation for war.
This December 12, 2012 file photos then US Assistant Secretary of Defense Mark Lippert during a press briefing of the 3rd Philippines-United States Bilateral Strategic Dialogue in Manila. (File)

A South Korean defence ministry spokesman said the exercises, due to run for eight weeks, would continue as planned.

Lippert was a US Senate aide to Obama and served in the US Navy in Afghanistan and Iraq, winning the Bronze Star. He was chief of staff for former Defense Secretary Chuck Hagel before taking up his post in Seoul in November.

Follow Emirates 24|7 on Google News.