'Smart' UAE on track with free Wifi on Dubai Metro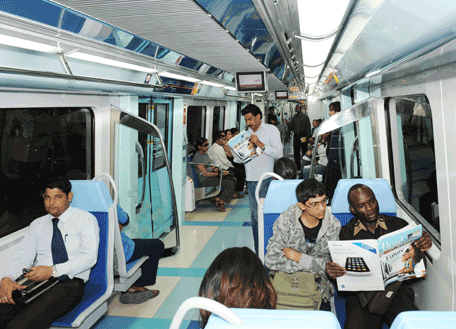 Free Wifi on all Dubai Metro trains and stations is now a reality.

Access to the internet from Dubai Metro has long been on the wish list of many commuters.

A Wifi connection has been available, but against a charge so far.

During Ramadan and on other occasions commuters would be treated to free temporary Wifi connections, a service always received with much enthusiasm.

This year, however, internet on the Metro is here to stay.

The introduction of free Wifi on Dubai Metro is part of the Wifi UAE initiative, which was rolled out on several locations in order to contribute to 'Smart' UAE.
Dubai Tram, Dubai International Financial Centre, Knowledge Village, Dubai Media City, Emaar Boulevard, Global Village and Du shops are among the connected areas.
"This year, Du provides not just Dubai Metro and Tram users, but also UAE residents across more than 200 locations the option to connect to WiFi UAE, in line with the telecom operator's continuing efforts to enable the smart city of tomorrow," Du says in a statement.
All the commuter needs to do is switch on the Wifi reception, and opt for the Metro network.
There are two options; free Wifi and a Premium option, which allows for more access against a charge.
"WiFi offers users restricted speed access to surf the web, check emails and use social media apps; while Premium WiFi gives customers the option of high speed internet access at two convenient price points.
"Government websites are available with free high speed internet access on both options," explains Du.
With the free-of-charge permanent connectivity within Dubai Metro areas, the commuter experience has now truly changed.

While eager tourists may still be seen gazing outside the window while the Metro rides along - Burj Al Arab, Burj Khalifa or the ski piste of the Mall of the Emirates (MOE), regular commuters who take the Metro on a daily basis are happy to hop on to the world wide web.

"I make a 40-minute trip back and forth every day, mostly standing as all the seats are taken. Being able to surf the net makes this trip a lot shorter," said Noor Abdulla, 28, a Syrian resident in Dubai.
"I never made use of the Wifi when it was available against a charge, and I do not want to consume my data unless I really need it.
"I would not connect to the net until I came home. This is very good news. I am very grateful for this service," says Mary Grace, a Filipino traveling by Metro every day.
Follow Emirates 24|7 on Google News.