Stuck in air for three hours... in Abu Dhabi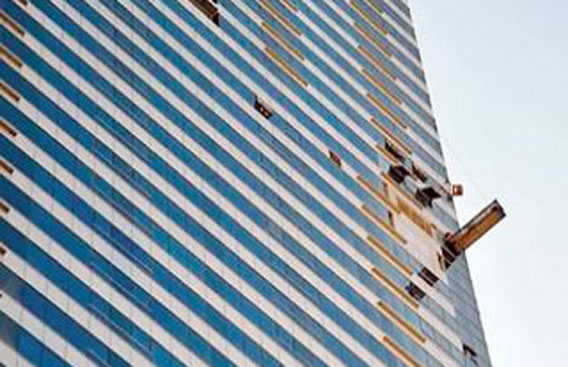 Two Asian workers suspended mid-air in the cradle for more than three hours while cleaning one of the capital's tallest buildings.
Rescue teams from the Abu Dhabi Police and the Civil Defence saved the duo's lives.
The cradle hung on the 37th floor of the 50-storey building, Salma Tower, which is located on the widely known as Electra Street. The rescue mission was tought as that floor had no windows to pull the cleaners in.
They were later rescued from the windows on the 38th and 39th floors. The cleaners were lifted with the help of safety jackets tied with strong strings, while on the ground a huge inflated mattress was laid for further safety.
The two workers were cleaning the building on the side facing the street when strong winds swung the cradle as it was coming down. Its four parallel metallic cables got twisted, seizing the motor. With the cables twisted the cradle, which was also a bit tilted, could neither move up nor down, reported Khaleej Times.
The rescue drama continued for over three hours with the horrified public on the ground praying for the lives of the cleaners.
Follow Emirates 24|7 on Google News.