Swiss education in Dubai: Dh95,000 a year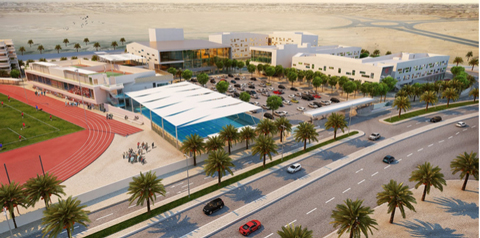 For those parents still scrambling for school seats, some good news. Admission to Dubai's 'first' Swiss school is still open.

Beat Sommer, head of Swiss International Scientific School (SISD), confirmed to Emirates 24|7 that the admission process is on full swing and seats are still available for the September intake this year.

"The SISD IB programme will mirror Switzerland's highly sophisticated and inclusive education system.
"From Grade One onwards, students in the bilingual sets will be immersed in a progressive environment where they will eventually study 50 per cent of their time in English and 50 per cent of their time in either French or German, with Arabic tuition."
Sommer added that there has been an overwhelming level of interest in multilingual tuition in the UAE.

The Dh530million state-of-the-art campus that's located near the Dubai Creek has a total capacity for 2,442 students.
The maximum class strength will be at 22 students, so the teacher-student-ratio will be one teacher for every seven students.

The school will offer multilingual education in French, German, English and Arabic.

"In September 2015, Pre-KG to Grade 6 will open. Grades will open progressively to Grade 12 in the years to come," said Sommer.

Explaining the process, head of admission Ursula Sommer stated that once an online application is filled out, and necessary documents (recent school report, Emirates ID, passport) uploaded, the school conducts a check.

"Within two-four days from when the online application is completed, the school will get in touch with the parents, and an assessment is scheduled.
"For students in PreK and KG2, a play assessment is conducted, and primary students will be tested in reading and comprehension either in German, French or English," she explains.

Once the assessment is done, the school will inform the parents of their decision within five days.

Fees range between Dh60,000 and Dh95,000.
For those applying no later than April 30, 2015, a discounted Founder fee will be applicable for the next three years.

"SISD will be home to premium boarding house for 350 students, library and an auditorium for an audience of 650.
"The campus will have an Olympic-sized 50m swimming pool, basketball and tennis courts, football and rugby pitch, an indoor and outdoor running track, a climbing wall, a gymnasium and a multi-purpose sports hall and a range of water sports, such as sailing, rowing and paddling," added Sommer.

The boarding facility, which "will be available academic year 2017-18", boasts of separate buildings for boys and girls, large community areas, spacious rooms, and a lot of staff to support the children.

Sommer clarified that SISD was not affiliated to the SIS in Zurich, Switzerland.

The school also reserves certain seats for children with special needs. "Students with a variety of special learning needs will be admitted to the school.
"However, some learners with certain language based learning difficulties, such as semantic pragmatic disorder or language processing disabilities, are unlikely to be successful within a school with such a high emphasis on languages.
"Students with dyslexia and dysgraphia, however, may well be successful in our multilingual programmes," the school website reads.
Follow Emirates 24|7 on Google News.