Travellers stranded, Eurostar trains stop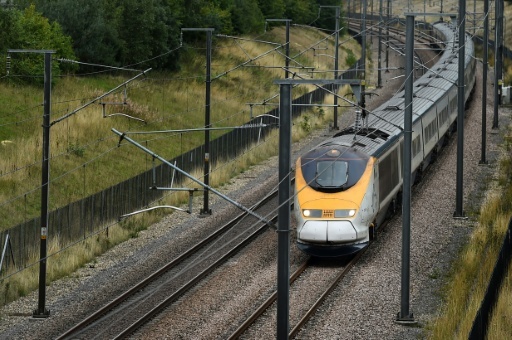 Eurostar passengers were left stranded in the dark after "trespassers" entered the tracks, in the latest disruption to the cross-Channel service by suspected migrants trying to reach Britain.

Five trains - one in Britain and four in France - were prevented from entering the Channel Tunnel after people blocked the tracks in Calais at around 10:30 pm (2030 GMT) Eurostar said. A sixth train was also interrupted in Britain, a spokesman for French rail company SNCF said.

"We have trespassers on the French side of the tunnel, which means that the traffic is blocked. Five trains are stuck on both sides," a Eurostar spokesman said.

"We are waiting for the police to clear the zone so that the trains and traffic can start again. Because we don't know when the site will be cleared we really can't say anything about how long the tunnel delay will be. It's impossible for us to say right now."

Another train, travelling from London to Paris, was also forced to return to the British capital, according to the SNCF spokesman, who added that rail traffic had now resumed.

"Security forces intervened to clear the track once it had stopped, and that blocked the Eurostar that was travelling to London and the power had to be cut for safety reasons," the SNCF spokesman said.

Three Eurostar trains bound for London that were blocked from entering the tunnel have been completely freed, while a Eurostar blocked at the entrance to the tunnel had to return to Paris, he added.

But by nearly 03:00 am Wednesday French time, some passengers were still left stuck on trains in what they said were intolerable conditions.

"There is no more electricity and we have been left in darkness," said Geraldine Guyon, a passenger who has been stuck on a Eurostar train from Paris to London for several hours, adding that the heat in the carriage is becoming "unbearable".

Passengers were earlier told the train was stopped because of problems with migrants on the tracks and a helicopter was seen flying above the train, but now the conductor has announced "the Eurostar cannot re-start because a window has been broken," she added.

France and Britain have brought in emergency measures to deal with a surge in the number of migrants trying cross the Channel Tunnel after people have been killed while making a desperate attempt to reach England.

Some 3,000 migrants camped out in the northern French port of Calais have been ramping up their attempts to outfox hopelessly outnumbered security officials and police to reach what they see as the "El Dorado" of Britain.
Follow Emirates 24|7 on Google News.