Triplets killed as Qatar blaze torched mall nursery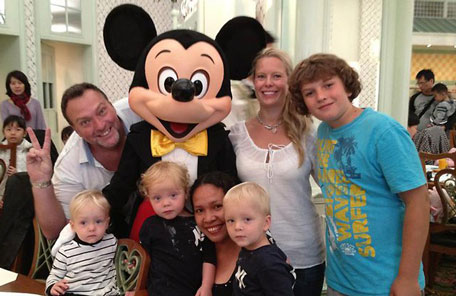 The parents of New Zealand triplets killed in a fire at a Qatar shopping mall are numbed by the tragedy, the toddlers' grandparents say.
The family has confirmed that two-year-old Lillie, Jackson and Willsher Weekes died along with 16 other people after fire broke out at the Villaggio mall in Doha.
The triplets had been at a childcare centre on the first floor of the complex.
Their grandfather Ron Turner has told Radio New Zealand his daughter Jane had called him with the terrible news.
He says Jane and her husband Martin are numbed by the loss. The children had been attending the centre for two or three months.
Mr Turner told the broadcaster he and his wife were flying to Qatar this evening.
Martin Weekes was chief executive of Eden Park from 1996-2000 and moved to Qatar in 2007. He is a senior adviser at Qatar government agency q.media.
Jane Weekes held a coffee morning at their home in the Gulf State each month for other multiple-birth mothers and those expecting twins or triplets.
Her listing on the Doha Mums website says: "Having multiples is a fun filled, yet often overwhelming experience so come meet others on the same wild ride to share ideas, get support, or to just have a laugh."
However, happiness has been replaced with grief, with a message on the website now paying tribute to the loss to their tight-knit ex-pat "family".
"All the members of Doha Mums would like to extend their heartfelt condolences to the families and friends of the children and employees who passed away as a result of the horrible fire today," it reads.
"We all lost members of our 'family' today and we are simply gutted. Please know you are in our thoughts and in our prayers."
New Zealand Prime Minister John Key earlier confirmed the deaths of the triplets but told reporters he had scant details about the tragedy.
"It's a great tragedy. Their family are obviously dealing with the terrible grief that they have at this time. Obviously it's a very tragic day for that family," he said.
Consular staff are travelling from Saudi Arabia to offer assistance to the family.
Brian Chambers, New Zealand's consul in Saudi Arabia, is heading to Doha today to offer assistance to families involved and the larger New Zealand community, believed to number about 500.
A New Zealand teacher living in Doha told NZ Newswire there were a number of Kiwis living in the country and he understood the family lived at a compound with other New Zealanders.
"It won't be a happy day at school tomorrow,'' he said.
Seven girls, six boys, four teachers and two firefighters died in the fire.
Reports from the Doha News and Al Jazeera suggest that there were also children from Spain, France, Japan, South Africa and the Philippines killed, along with three Filipino teachers and one teacher from South Africa.
Former New Zealand journalist Tarek Bazley was in the mall when the fire broke out, saying he heard a benign alarm which sounded like a repeating doorbell, but he was told by an attendant that "it's usually a false alarm".
"About 10 minutes later someone else, a member of the public, raced through this area and said, 'Everybody out, you've got to get out now, the other half of the mall is on fire'."
Mr Bazley understood there was no way to escape for those in the Gympanzee nursery as both entrances to it were blocked by smoke, and those that were rescued escaped through a hole in the roof cut by firefighters.
He said media were later told there had been some malfunctioning of both the alarm and the sprinkler system.
Unconfirmed reports on Doha News said two managers were arrested and may face charges.
Government spokesman Sheik Abdullah expressed sorrow to reporters in Doha.
"We tried our best, but when we got there, the children were trapped inside. We are very sorry for what happened. We tried as much as we could to save these people," he said.
Four teachers and two civil defence officials were among the dead, the Qatari ministry said on its official Twitter page.
The Villaggio opened in 2006 and is one of Qatar's most popular shopping and amusement destinations.
Retailers include many well-known Western brands, such as Foot Locker, Pizza Hut, Starbucks and British department store Marks & Spencer, according to the mall's website.
Malls throughout the oil-rich Arab Gulf are popular with families looking for entertainment destinations that provide relief from soaring summer temperatures.
The Villaggio includes an ice-skating rink, theme park, movie theatre and indoor Venetian-style gondola rides.
Amateur photos and videos posted online showed firefighters rescuing victims by climbing on the roof.
Temperatures in Doha were around 40C at the time of the fire around midday local time.
The Interior Ministry said the fire was extinguished hours later.
The cause of the fire is under investigation.
Qatar won the right to host soccer's 2022 World Cup a year-and-a-half ago.
Sheik Abdullah said all buildings in the country abide by safety requirements, but a special committee will nonetheless be set up to monitor building safety standards, according to the ministry's Twitter feed.
Follow Emirates 24|7 on Google News.