Troubled 'drifter' randomly kills 2 women in movie theater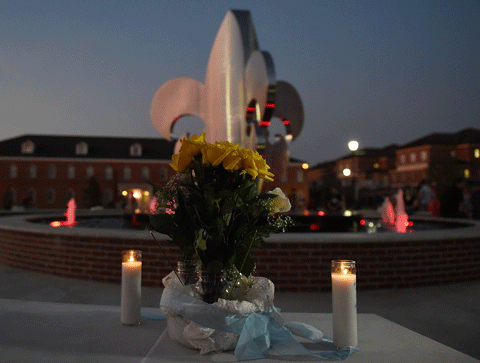 The troubled "drifter" who randomly killed two women in a Louisiana movie theater and then took his own life has emerged as an anti-government extremist who owned a legally-purchased firearm.
The latest mass shooting to strike the United States took place on Thursday just hours after President Barack Obama said an inability to enact "common sense" gun controls was one of the greatest frustrations of his time in office.
Authorities said Houser purchased his gun legally at a pawn shop in the neighboring state of Alabama.
Police said John Houser initially tried to flee after shooting 13 rounds from a single handgun into a crowded cinema in Lafayette, Louisiana Thursday evening.
But he turned around and shot himself dead when he saw police officers rushing towards the sound of gunfire.
Nine people were wounded in addition to the two women killed.
The motive of Houser -- a 59-year-old white man with a criminal record -- remains unclear.
Investigators said they are looking into an online history which appears to include anti-government rants, conspiracy theories and Nazi-sympathizing views.
They are also examining his mental health history. His wife sought a restraining order against Houser in 2008 and reportedly had him involuntarily committed.
"We believe that talking to the family and talking to the friends and trying to look at his writings on the internet maybe we can figure out why he did it," Louisiana state police chief Michael Edmonson said.
"There's nothing to lead us to any indication that he had any accomplice or anybody is out there trying to do what he's doing."

'Random act of violence'
Houser had been staying at a nearby motel where authorities found glasses and wigs apparently intended for disguises.
"He's kind of a drifter," police chief Jim Craft said, adding that Houser had arrived in Louisiana recently from Alabama.
It is possible that he may have been inspired by a 2012 theater massacre in Colorado that left 12 dead and 70 injured, Craft said.
Almost exactly three years ago, James Holmes opened fire on a packed screening of 'The Dark Knight Rises' in Aurora, Colorado, in a meticulously-planned attack.
Jurors are currently considering whether Holmes, 27, should receive the death penalty.
More than 300 people were in the Louisiana multiplex when Houser began shooting some 20 rounds into an audience of about 25 people watching the comedy "Trainwreck."
Five people remained in the hospital Friday, one of whom is in critical condition. Police said one man was shot four times.
Louisiana Governor Bobby Jindal praised the "selfless heroism" of two wounded teachers. The first threw herself in front of her friend to shield her from the bullets.
The second, who was shot in the leg "had the presence of mind to pull the fire alarm" to warn others of the danger.
Jindal, who is also vying for the Republican presidential nomination, said it was not the right time to discuss gun control and that the focus should remain on the victims.

'Disaffected, angry man'
The shooting came just hours after Obama said the issue on which he felt "most frustrated and most stymied" was gun control.
"If you look at the number of Americans killed since 9/11 by terrorism, it's less than 100. If you look at the number that have been killed by gun violence, it's in the tens of thousands," Obama said, in a BBC interview taped before the shooting.
"And for us not to be able to resolve that issue has been something that is distressing," he said.
The White House said the president's "thoughts and prayers" were with the victims and their families.
This latest incident also comes a day after a federal grand jury indicted suspected white supremacist Dylann Roof on hate crime and other charges over the June 17 shooting massacre of nine black church-goers in Charleston, South Carolina.
Houser left dozens of messages on extremist websites "which provide a picture of a politically disaffected, angry man, who viewed the United States as a 'financially failing filth farm,'" according to the Southern Poverty Law Center, which tracks hate groups.
He also expressed anti-Semitic and homophobic views, and "a number of conspiracy theories often espoused by the anti-government right," the group said.
Police said Mayci Breaux, 21, died in the theater. Jillian Johnson, 33, died in hospital.

Follow Emirates 24|7 on Google News.