UAE ministry launches 'Happiness Hour'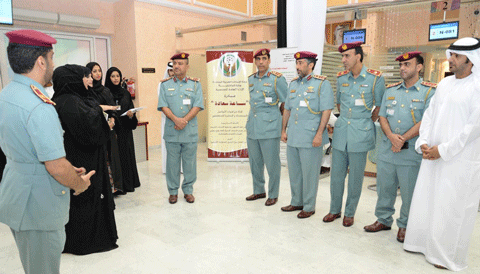 The Ministry of Interior, represented by the General Directorate of Naturalisation, launched the 'Happiness Hour' initiative.
The initiative will be implemented at the level of the various naturalisation departments and sections nationwide to measure the levels of customer satisfaction with the services provided to them.
It aims to streamline and simplify the procedures, speed up transactions, and take care of customers.

Colonel Suhail bin Kaltham Al Khaili, Deputy Director General of Naturalisation for Investigation Affairs, launched the initiative during a ceremony held at the headquarters of the Directorate General of Residency and Foreigners Affairs in Abu Dhabi.

According to Major Ahmed Hadi Rashidi, Deputy Director of the Naturalisation Department in Abu Dhabi, the initiative is part of the Ministry of Interior's 2014 - 2016 strategic plan.
"It aims to strengthen public confidence in the effectiveness of the services provided to our customers, and to achieve the Ministry's values of excellence, teamwork, and social responsibility," he said.

Maj. Rashidi pointed out that the initiative serves as a channel for direct communication with customers, enabling them to engage directly with officials and to contribute their opinions and suggestions.

"In accordance with the standards of quality and efficiency, this initiative would contribute to the development and improvement of work standards alongside the provision of services," he said.
Continuing, the Deputy Director of the Naturalisation Department indicated that a survey will be distributed to customers in order to gather the opinions and suggestions that would assist in the further development of work procedures and the provision of exceptional services.

The launching ceremony was attended by Colonel Yusuf Khouri, Deputy Director General of Residency and Foreigners Affairs in Abu Dhabi; and Colonel Saeed Salem Al Shamesi, Head of the Information and Follow-up Department, along with a number of officers and customers.
Follow Emirates 24|7 on Google News.