Upbeat Dubai developers plan new launches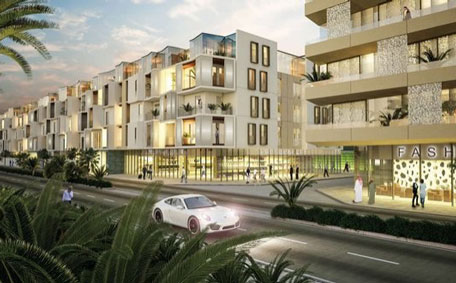 Falling property prices, lower sales volumes are not deterring Dubai developers from new launches.
Developers are hoping high returns on investment and a safe-haven status will attract global investors to the emirate.

Global ratings agency Moody's too has confirmed that the Dubai government's plan to upgrade the city for the Expo 2020 through infrastructure spending and encouraging foreign investments will provide market support over the next five years.
Rendering of Glitz in Dubai Studio City.

Dubai is the host of Expo 2020 that will run for a period of six months, starting October 20, 2020 till April 10, 2021.
The emirate aims to draw more than 25 million visitors, expecting Dh25 billion in total investment in infrastructure-related projects, creating 277,000 new jobs.

Danube Properties

Driven by all the positives, local developers announced a number of projects, including some mega developments, during the recently concluded Cityscape Global.
Continuing the drive is Dubai-based Danube Properties.

Rendering of Dreamz in Al Furjan.

With close to Dh1.2 billion invested in real estate market, the developer is now scouting for land to launch its latest residential project.

"We are planning to invest up to Dh500 million in an affordable residential project which could come up in Arjan or Al Furjan master community, before the end-2015 as we are confident that the market here," Chairman Rizwan Sajan told Emirates 24|7.

The company's portfolio includes the Dh700 million Glitz project in Dubai Studio City and Dh500 million Dreamz in Al Furjan area.

Sajan asserts that the company isn't likely to enter the luxury market segment.

"Our focus is only on affordable housing. We have been successful in our projects and so we are not going to change our success formula," he added.

JLL, a global real estate consultant, has said only 22 per cent of 19,500 residential units launched in 2015 to date in Dubai meet its affordable to middle-income housing criteria.

Omniyat Properties

Concentrating on the luxury market segment, Omniyat Properties is working on new projects in International Media Production Zone (IMPZ) and Dubai Maritime City (DMC).

Model of Omniyat's DMC project displayed at Cityscape Global. (Parag Deulgaonkar)
Model of Omniyat's IMPZ project displayed at Cityscape Global. (Parag Deulgaonkar)

"We are working on launching two luxury projects before year-end," company Sales and Marketing Director Mohammed Hmeid told Emirates 24|7.

"We are not going to restrict ourselves to the super high-end category as we are now targeting a wider base with a well-studied pricing that is relevant to the market."

Last month, the developer launched a Dh1 billion Langham Place Downtown Dubai in Business Bay, which took its real estate portfolio value to Dh16 billion.

Dubai Investments

Dubai Investments Real Estate Company, the real estate subsidiary of Dubai Investments (DI), re-launched the Dh3 billion Mirdif Hills and is currently in talks with banks to finance for the project, DI CEO Khalid Bin Kalban told Emirates 24|7.
"We are in talks to raise Dh1 billion for our Mirdif project and we expecting to secure the funds in the coming three months," he said, adding that the UAE real estate industry is witnessing robust growth, which is a reflection on its sound fundamentals and overall business confidence across sectors.

With 3.8 million square feet of residential (1500 housing units), retail and commercial space, the freehold project will be built next to Mushrif Park.

Kalban revealed the company will commence construction by year-end or early 2016 with completion expected in 36 months.

Follow Emirates 24|7 on Google News.