Vehicle catches fire on Emirates Road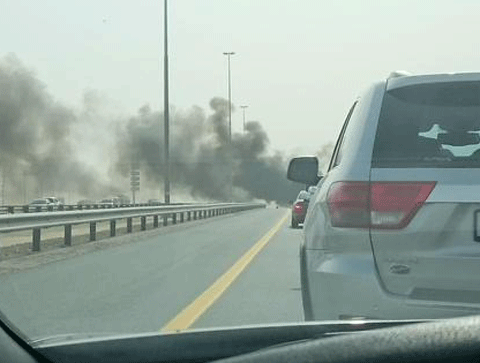 Update: At 9.15am, eyewitnesses said the vehicle fire on Emirates Road had been brought under control, with several blocked lanes reopening to traffic.

Eyewitness MV told 'Emirates 24|7': "It's [roads] open now. They have controlled the fire and opened a couple of lanes."

Further down in Dubai, on Sheikh Zayed Road, commuters are reporting a 'major crash' in front of Ibn Battuta Mall, affecting traffic heading southbound towards Abu Dhabi.

At 9.15am, traffic was reportedly backed up beyond the Jumeirah Lakes Towers and touching Dubai Marina, with gridlock also being reported in surrounding residential communities.

Eyewitnesses claimed on social media that several lanes of Sheikh Zayed Road were blocked due to the debris from the crash.

A vehicle reportedly caught fire on Emirates Road (former Dubai Bypass) around 8.30am Sunday morning, affecting traffic northbound towards Sharjah.
Eyewitness MV said the vehicle was situated approximately 3km before the Dubai Outlet Mall exit.
Commuters on social media have stated emergency vehicles are on the scene, with traffic piling up on E611, after Enoc petrol station.
Drivers are being cautioned by other commuters to find alternative routes and allow emergency vehicles to arrive on the scene.
Further details are awaited.


Follow Emirates 24|7 on Google News.