Video: Amazing mid-air rescue; chute fails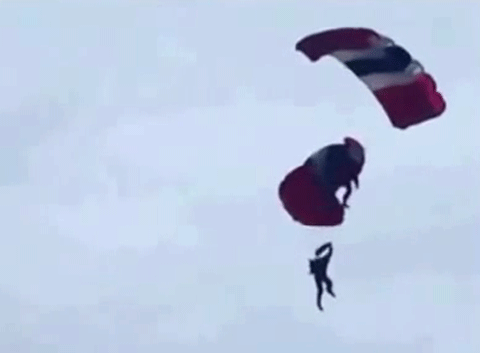 A British army paratrooper from the country's famed Red Devils display team has had a narrow escape in front of hundreds of spectators, after he was caught mid-air by a fellow team member when his parachute failed to open properly.
The airshow in northwest England where the incident happened late on Friday said it was the first parachute fail in 25 years for the team, which is formed of 12 members of Britain's elite Parachute Regiment.
Spectators published dramatic photos and video on social media showing one soldier with a fully open parachute wrapping his legs around the ropes of his team mate's tangled parachute below.
"It was awful watching them struggling, especially when they veered off course -- until we realised they were purposely targeting the biggest area of water for ditching into," a spectator said on the airshow's Facebook page.
The men landed in a nearby marina. A British army spokesman said they were both unharmed and that the incident was being investigated. The Red Devils take part in over 60 public displays a year.
Follow Emirates 24|7 on Google News.