Video: Dubai Tram safety tips for cyclists, drivers and pedestrians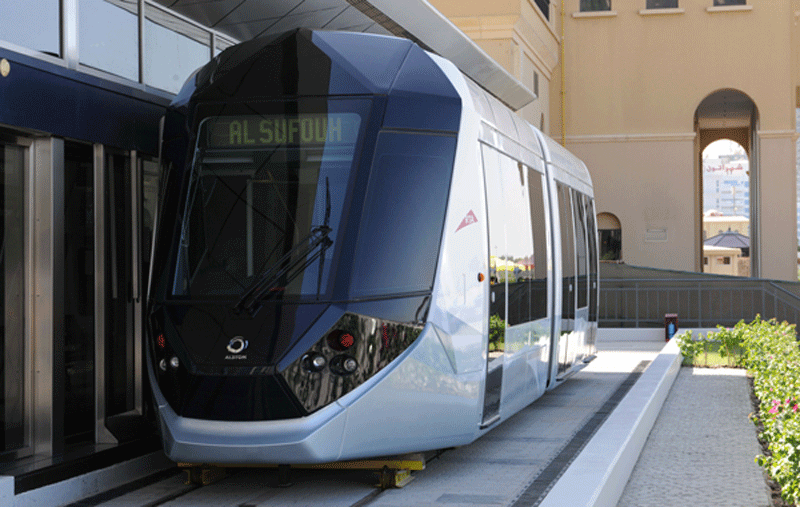 Dubai Tram passengers will be able to board the tram in November this year and travel along a 10.6 kilometer-long track running from Al Sufouh area to Dubai Marina.
The Road and Transport Authority (RTA) is doing its bit to make the residents aware of the safety measures through social media and other means.
The first phase of the Dubai Tram will operate with 11 trains, covering a distance of 10.6km that will be served by 11 stations. Another four kilometers of tramway will be added in the next phase that will be served by seven more stations.
No headphones or mobile phones:
Do not use headphones or mobile phones in the area where Dubai Tram could pass.

This was one of the messages sent out by the Road and Transport Authority (RTA) during the Gulf Traffic week, when several authorities were organising safety related events.
Traffic Signal:
There will be special traffic lights and signs.
These road signs may inform the driver that a tram might pass on the right, left or ahead. Other signage shows that a tram route in one or both directions lies in front, trams crossing on the intersection, routes where only trams are allowed, etc.
Most of the new road signs are related to the tram and railway, while a few are for speed breakers and pedestrian crossings.
FOR CYCLISTS:
Do not cycle on the tracks as wheels may get stuck in the rail gap. Where trams run along the road, avoid following the rails to make sure they do not lead to a route reserved for the tram.
Be extra careful where a track crosses the road as tram road users have their own traffic signals.
When crossing the tracks, always check your surroundings and consider dismounting and crossing on foot.
FOR DRIVERS:
Always give way to trams.
You must not enter a road, lane or route reserved for trams.
Be extra careful where a track crosses the road as trams have their own traffic signals and maybe permitted to move when you are not.
You must not stop or park your vehicle where it would get in the way of trams or where it would force other road users to do so.
Look out for pedestrians, especially children, running to catch a tram, getting off a tram or bus or crossing the road.
FOR PEDESTRIANS:
Always cross the tracks using a pedestrian crossing and pay extra attention when the tram is approaching. Always look in both directions before crossing the tracks.

Tram corridor is fenced to prohibit crossing.
Tramway System:
Crossing a red traffic signal at the intersection area with the tramway causing an accident that leads to the death of a person is punishable with a fine between Dh10,000 and Dh30,000, in addition to revoking the driver's licence for a period of up to one year.

When crossing a red traffic light at the tramway intersection and causes an accident leading to injuries the offender can be fined between Dh5,000 and Dh15,000, while crossing a red traffic light at the tramway intersection area without causing an accident is punishable with a fine between Dh2,000 and Dh5,000.

Where the routes of the tram and other vehicles intersect, the tram will have priority, announced Dubai Police earlier. However, in emergencies, police, ambulance and civil defence vehicles will get priority.
Follow Emirates 24|7 on Google News.