Visa Temple where Indians go get visas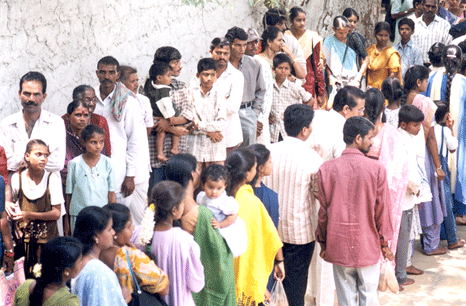 Landing a good job is the dream of any person and one would go that extra mile to ensure they get the best deal. People in South India are no different. They head to the Chilkur Balaji temple in Telangana.

The shrine, popularly called the 'Visa Balaji temple', is a favourite of those seeking employment abroad. Stories of 'Visa God's' miracles are numerous. In fact, a recent hoarding in the city announcing how a certain Channa Reddy got his US visa approval after visiting the temple went viral on social media sites, and leading newspapers took up the story.

Devotees visit the temple and make 11 circumambulations making their request and return to complete 108 circumambulations upon its fulfillment. Majority of those who visit the temple are visa seekers who eye jobs abroad and most of them are youngsters within 25 and 35 years of age, according to a source from the temple trust.

"People believe that the 'Visa God' will help them get overseas jobs for candidates who have already applied or student visas for those seeking to study abroad," a regular visitor told 'Emirates24|7'.

Bheem Reddy, a social worker from Hyderabad, said, "There is no payment to be made at the temple, unlike in many places of worship. There are no cash boxes kept at the premises. No donations made – neither in cash or kind – at the temple."

It is popular among students, too. "Youngsters who want to migrate to the US or any other foreign country for higher studies are regular visitors to Chilkur," he added.

Srikant Padala, is just one among the several devotees who have posted their experience on the temple's website. "I visited Chilkur Balaji several times after reading about the place in newspapers. Then I sought a US visa and was successful and travelled to the US. Now, every time I go to India, I definitely visit 'Telangana Tirupathi'.

About 75,000 to 100,000 devotees visit the temple in a week. The most popular days being Fridays and Sundays, when people throng the temple as early at 4am in the morning.

And people from far and wide and those from neighbouring states travel to Chilkur to seek blessings to realise their dreams of working and studying abroad.

However, there are skeptics, too. Anakha, an Indian, doesn't believe any miracles happen at Chilkur.
Follow Emirates 24|7 on Google News.