Why nations will fail: Rwanda president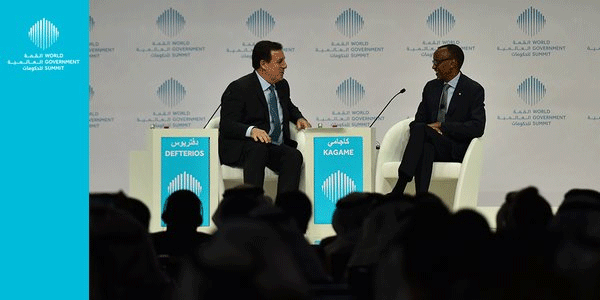 With an eight per cent annual growth rate for the past 14 years, Paul Kagame, President of Rwanda, spoke at the ongoing World Government Summit about why nations succeed.
He said: "Nations would fail if its governance and people don't work together to fulfill what its people want. The success in Rwanda has been because of the undertaking of government and role of institutions."
He continued: "Nations will fail if they listen too much what others want. Everybody matters. Inclusiveness is the way to go."
Speaking about the growth in Rwanda, he stated the country aims to be a middle income nation by 2020 by sustaining its annual growth.
He said: "We can sustain growth in Rwanda. It is because it comes from within, rather than outside. Even though outside investments are welcome and needed, we have to start from inside, and leverage what we have.
"We want to achieve $1,240 GDP per capita by 2020. Now we are close to $800. The gap that remains can be met at the pace we are moving, with our growth rate of 8 per cent over the past 14 years.
"The driver of this growth has been the laws that have been passed to achieve this. We are building on what we've done since 2000. The progress in institutions, service delivery has been significant. This year we are focusing on building we have done.
"We are making sure the agriculture sector is being developed to benefit Rwandans. Manufacturing, services are also one of the areas we are targeting.
"The Rwanda Development Board, the government and private investment are making all this happen coupled with laws in place to make this fully operational."
The President of Rwanda further stated they want to attract $1 billion worth of Foreign Direct Investment by 2020.
He continued: "The trade between Africa and its countries is close to 12 per cent; there is no reason we can't grow to levels of North America or Europe, which is close to 40-50 per cent. There is huge potential to fill these gaps."
Does the President agree with the comparison that Rwanda is the Singapore of East Africa?
When quizzed, he said: "All I can say is what is good isn't necessary small. You need good management. You can learn from Singapore and the UAE. We work and share best practices and learn from them. Basis is good management for any economy.
"We think we can leverage good management and governance and continue integration across Africa."
As Rwanda's long-standing President, Kagame has also faced criticism from the US and Europe for failing to encourage new governance in the country.
When asked if this was healthy or not, he said: "If it is healthy for Rwanda or not, it is the choice of Rwandans. My election is anchored in wishes and the will of people, it is health. If I am building on their choices, I don't see any problem.
"It is a matter of time, and look at what is done during this time. Increased stability, continued progress.
"I don't depend on the US and Europe or its comments. Rwandans have their own lives to think and manage. Those comments, you listen, you learn. But you decide what you do for your country.
"We can criticise these countries too. But it is better to manage our own situations.
"I don't know if I will be President Kagame in 2023. I don't know. I will run in 2017, we will look at that. I leave it for Rwandans to do what they want to do."
Speaking about the UAE's support for his country, he said: "The UAE is making good investments in Rwanda; Dubai Ports is creating an inland port in Kigale. We see investments in the hospitality sector. Air routes and other things are also in the pipeline.
"If you look at the UAE from 30 years ago, they have built great value. People did not give them a chance as today suggests.
"Rwanda is the same. We are building value and learning from the UAE."
Follow Emirates 24|7 on Google News.