13 dead in Somali hotel attack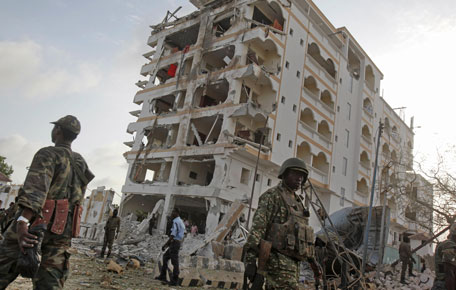 The Somali militant group Al Shabaab attacked a Mogadishu hotel on Sunday, driving a car packed with explosives through the hotel gate and killing at least 13 people, a first responder and the rebel group said.

A Reuters witness said blood and pieces of flesh were spattered around the site of the blast targeting Jazeera hotel. Nearby was the wreckage of four cars.

"We have carried 13 dead people and 21 others who were injured, some seriously," an ambulance worker Abdikadir Abdirahman told Reuters.

China's official Xinhua news agency said that a Chinese national was among the dead and three others were injured, though it gave no details.

The Chinese embassy, whose offices are in the hotel, was damaged in the blast, Xinhua said.

A police officer, Major Nur Osoble, told Reuters a suicide car bomb had rammed the gates of the hotel, damaging the facade.

Al Shabaab, which said it was behind the blast, frequently stages bomb and gun attacks in the capital in its bid to topple Somalia's Western-backed government. The nation is trying to rebuild after two decades of conflict and chaos.

"It is a response to attacks and helicopter bombing against Al Shabaab," Sheikh Abdiasis Abu Musab, Al Shabaab's military operations spokesman, told Reuters.

The popular Jazeera hotel has been targeted on previous occasions. The blast on Sunday sent a plume of smoke rising above the coastal capital. Sporadic gunfire was heard shortly after the attack.
Follow Emirates 24|7 on Google News.