Britons don't really care about the royal wedding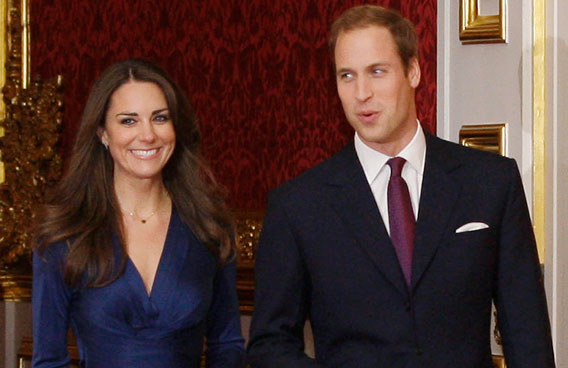 When she was a little girl, Elsa Hardcastle loved to dress up as a princess and read stories about young women swept off their feet by a prince charming.
Now, the 10-year-old would rather watch a blockbuster episode of reality TV talent show "X Factor" and meet one of its pop singer judges than see Kate Middleton become a real-life princess when she marries Britain's Prince William.
"I'd rather go to the 'X Factor' final because you get to see loads of famous people like Cheryl Cole," she said.
"I'd rather meet Cheryl Cole than Kate Middleton, because Cheryl is cool and kind."
Pop star and X-Factor judge Cole is the product of manufactured fame in Britain, who began her own career on a reality TV show when she was chosen as a member of girl band Girls Aloud and whose high public profile has been aided by her messy tabloid romance, marriage and break-up with England soccer player Ashley Cole.
By contrast, William is the Eton-educated third-in-line to one of the oldest thrones in Europe who - when he becomes king - will be the constitutional monarch of 16 countries.
His fiancee Kate Middleton is a privately educated woman with a degree from one of Europe's top universities whose parents are self-made millionaires.
With the media frenzy surrounding the royal wedding on April 29 gaining steam, you'd be forgiven for thinking that Hardcastle's views were out of kilter with that of most Britons.
However, a survey by pollsters ComRes last November found a majority of Britons were "not excited" about next month's occasion, with 31 percent saying they "couldn't care less".
The bombardment of reality TV shows, and the daily dollop of gossip in the media about the "celebrities" they create, has changed many people's regard for the royal family, said Chris Rojek, Professor of Sociology at Britain's Brunel University.
"In a sense, the public has got all too used to fame being easily produced and not necessarily hard won," he told Reuters.
No more awe
"So when we have a big occasion like the royal wedding, the kind of awe that was there when (William's father) Prince Charles married Lady Diana has dissipated somewhat."
This, perhaps worrying, obsession with manufactured celebrities and with fame itself was a growing trend, particularly among young people, he said.
"People want to be famous without having necessarily any skill or having achieved anything," said Rojek, who has penned a book titled "Celebrity" looking at the phenomenon.
"They want to be recognised, they want to have impact. But they want it to be for themselves rather than through occupying some position like marrying a future king."
A survey of teachers by Britain's Association of Teachers and Lecturers union in 2008 found most school children aspired to be celebrities, in particular sports or pop stars.
Prince William did not feature in the results at all, although a small number of teachers said their pupils modelled themselves on his younger brother Prince Harry, whose nightclub exploits have often seen him feature in tabloid gossip pages.
"I wouldn't want to marry a prince -- their life doesn't look like much fun," said 13-year-old Bella Bissett. "I would rather be a pop-princess -- then you get the best of both worlds."
Middleton 'no celebrity'
Bissett's friend Jess Wallace, 13, said the wedding itself even lacked the glitz of big film award ceremonies.
"I would rather go to the Oscars because Kate Middleton isn't a proper celebrity and I'd rather see the celebrities at the Oscars," she said. "I don't fancy a royal life -- all you have to do is go to formal events and stuff."
Rojek said their views reflected a growing sense that celebrity culture was becoming ubiquitous, and much more widespread than when Charles married Diana in 1981.
"It was more rarefied for people to meet celebrities or dream about being them. Now it's almost as if it's within the grasp of anyone," he said.
"I think it is going to be very hard for Prince William and Kate to present themselves as glamorous as William's mother did because it's a different world now."
Commentators agree that the royal family might have lost some of their mystique, but reject the notion that they no longer capture the public's imagination.
"The British royal family has in a sense stepped into the showbiz arena and they do compete for interest with the X Factor," said royal biographer Christopher Wilson.
"The only thing is that most of the people who are in X Factor disappear after a year or two, whereas the royal family has got continuity that goes back hundreds of years. They're always a topic of interest. Everybody has a view on the royals."
Lasting appeal
Claudia Joseph, who has written a biography of Middleton, said global interest in the wedding showed their lasting appeal.
"Times have changed since the wedding of Prince Charles and Princess Diana. Both Britain and America are obsessed with reality television stars, who are much more willing to talk about their feelings and take their clothes off," she said.
"But in some ways that makes the royal family more mysterious and inaccessible," she told Reuters.
That, at least, is a view shared by Hardcastle's older sister Bethany, 12. "I would rather marry a prince because if you won the X Factor you may not have the fame for all of your life but being a princess everyone would know who you are forever."
She said the wedding was "an amazing historical event" as opposed to the annual "X Factor" frenzy.
"I'd prefer to meet Kate Middleton because she's going to be the queen, but Simon Cowell is just, well, Simon Cowell."
Follow Emirates 24|7 on Google News.