Clinton raises women's driving ban with Saudis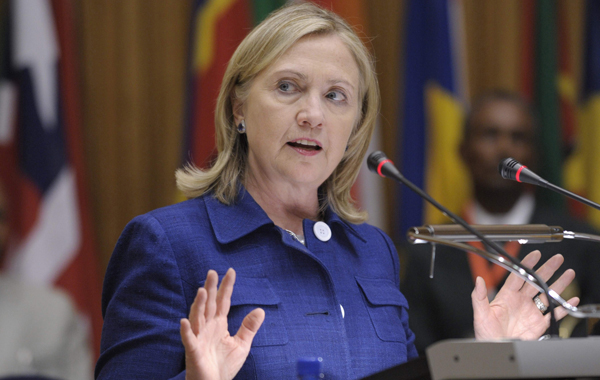 US Secretary of State Hillary Clinton on Tuesday praised "brave" Saudi women fighting for the right to drive in the conservative kingdom, but said it was up to Saudi society to determine the way forward.

"What these women are doing is brave and what they are seeking is right, but the effort belongs to them. I am moved by it it and I support them," Clinton said in her first public comments on the issue.
Earlier, Clinton, a strong advocate of women's rights, has raised Saudi Arabia's ban on women driving with the kingdom's foreign minister, the State Department said on Monday.
Clinton spoke to Saudi Foreign Minister Prince Saud Al Faisal on Friday to discuss a range of regional issues, State Department spokesperson Victoria Nuland said. "In that that conversation they talked about Yemen, they talked about Syria and the subject of driving did come up," Nuland said.
Rights groups have publicly pressed Clinton to weigh in on Saudi Arabia's driving ban, which has been publicly challenged in recent weeks by Saudi women who have risked arrest to get behind the wheel.
Nuland declined to give further details of Clinton's conversation with Prince Saud but said her relatively soft approach to the issue did not mean Clinton viewed the issue as unimportant.
Article continues below
"I think she is making a judgment on how best to support universal rights for women," Nuland said. "There are times when it makes sense to do so publicly and there are times for quiet diplomacy.
"The secretary has been engaged, as have others, in quiet diplomacy on this subject."
Two women were recently arrested for defying the driving ban and others have been inspired by challenges to authority across the Arab world to post accounts and pictures of themselves driving.
Clinton has advocated forcefully for women's rights during her US political career and as the Obama administration's top diplomat - although she has at times had to temper her message, particularly for conservative Islamic countries.
The United States and Saudi Arabia have seen their traditionally close ties strained in recent months as popular protests erupted in a number of Arab countries.
Follow Emirates 24|7 on Google News.